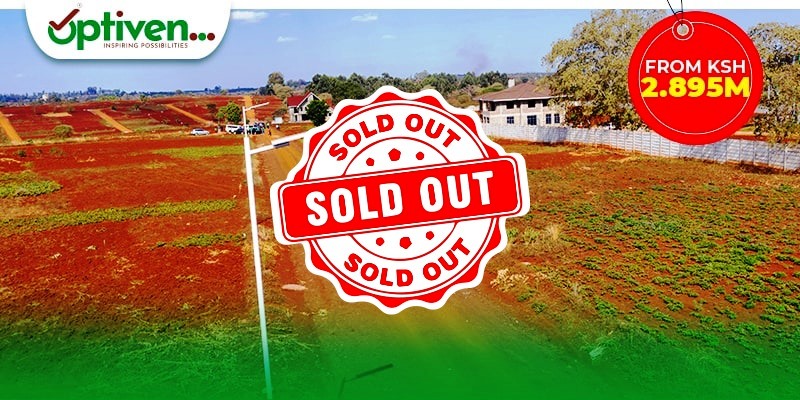 Success is all about attaining your aspirations and your dreams

Most individuals dream of Success but never attains it, others see it, feel it and act it in their lives. Seeing and taking action is a key component of true and tangible Success. Optiven is here to help you walk, see, touch and own the journey to an extraordinary Success.
Yes, you can join the successful community by owning property at Success Gardens – Gatanga Road. This very strategic property is right on tarmac and only 9 minutes drive from Thika Superhighway.
Success Gardens is designed for those who aspire to be Successful in life; those dreaming to have Successful families and only those who take quick action to start the enjoyable journey towards Successful living. Do not wait any longer, join this scenic Gardens that comes with unique value additions destined to be fully done in 24 months time.
Whats More

Water on site
Solar Street Lights
Murram roads
Trees along the internal roads
Manned security
Nice success entry gate
House designs
Green zone
What you can do with this property:

You can build your palatial home
You can buy , own and settle at your preferred time
You can use this property to accumulate your wealth and assets
Frequently Asked Questions

1. What type of fence can clients do?
Picket Fence this will enable customers set up beautiful fences that are eco friendly.
The entire project it secured with a perimeter wall and a single access security Gate.
2. How are we going to link up people at the green park.
The green park one an organic Farming zone we shall maintain the park as an area where we can practice organic maintain as a community.
At the point where we hand over the project to the Home owners, we will together agree on a sustainable way of farming in the park.
As we keep pushing for the green agenda, we insist on maintaining green areas that offer Sustainable Green Solutions within our communities.
3. What will be in the green Park.
A Green Zone for the community to set organic Farms.
4. What types of roads will be in this project.
5. Lease period
944 years from the date of issue of the new titles (Renewal)
6. What are social amenities available near success Gardens?
Hotel Blue post: children fun place, Wildlife sanctuary, a lovely waterfall among others.
Thika Golf Club
40 mins drive to Nairobi City 15 mins drive to Thika Town
International schools: Braeburn Imani International School, Choice Imani International School Thika, Autism School International, Juja preparatory among others.
Hospitals: Mater hospital Thika, Karen hospital Thika, Thika level 5, Gertrudes Childrens Hospital-Thika among others.
---
---
Investment Offer
Get the first-movers advantage of paying Cash Ksh 2.895M per 1/8 acre plot
Pay Ksh 700,000 deposit with the rest in installments
Payment within 30 days: Kshs 2,895,000
Payment Within 3 Months: Ksh 2,960,850
Payment within 6 Months: Kshs 3,026,700
Payment within 12 Months: Ksh 3,158,400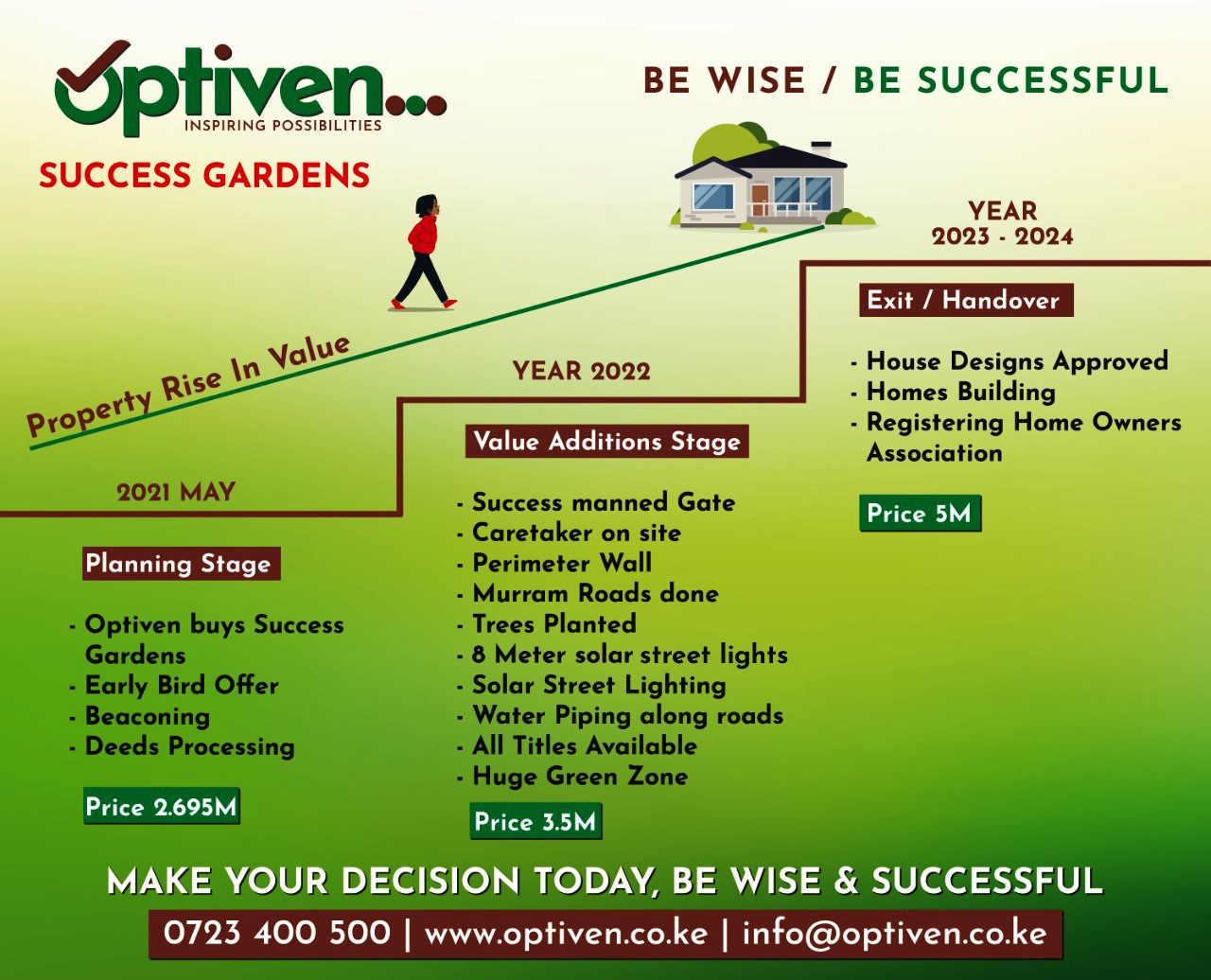 ---
Location Map




---
---
Enquire More on Success Gardens

Contact us
Head Office: Absa Towers Loita street, 2nd Floor
Postal Address: P. O Box 623-00600 Nairobi, Kenya
Call / SMS / Whatsapp: 0790 300300
Email: info@optiven.co.ke
Branches
Optiven Global Office – Zamani Business Park, Karen
Kitengela –  Optiven Business Center – Acacia Junction
Nanyuki – Ubii Plaza, 2nd Floor along Kenyatta Highway