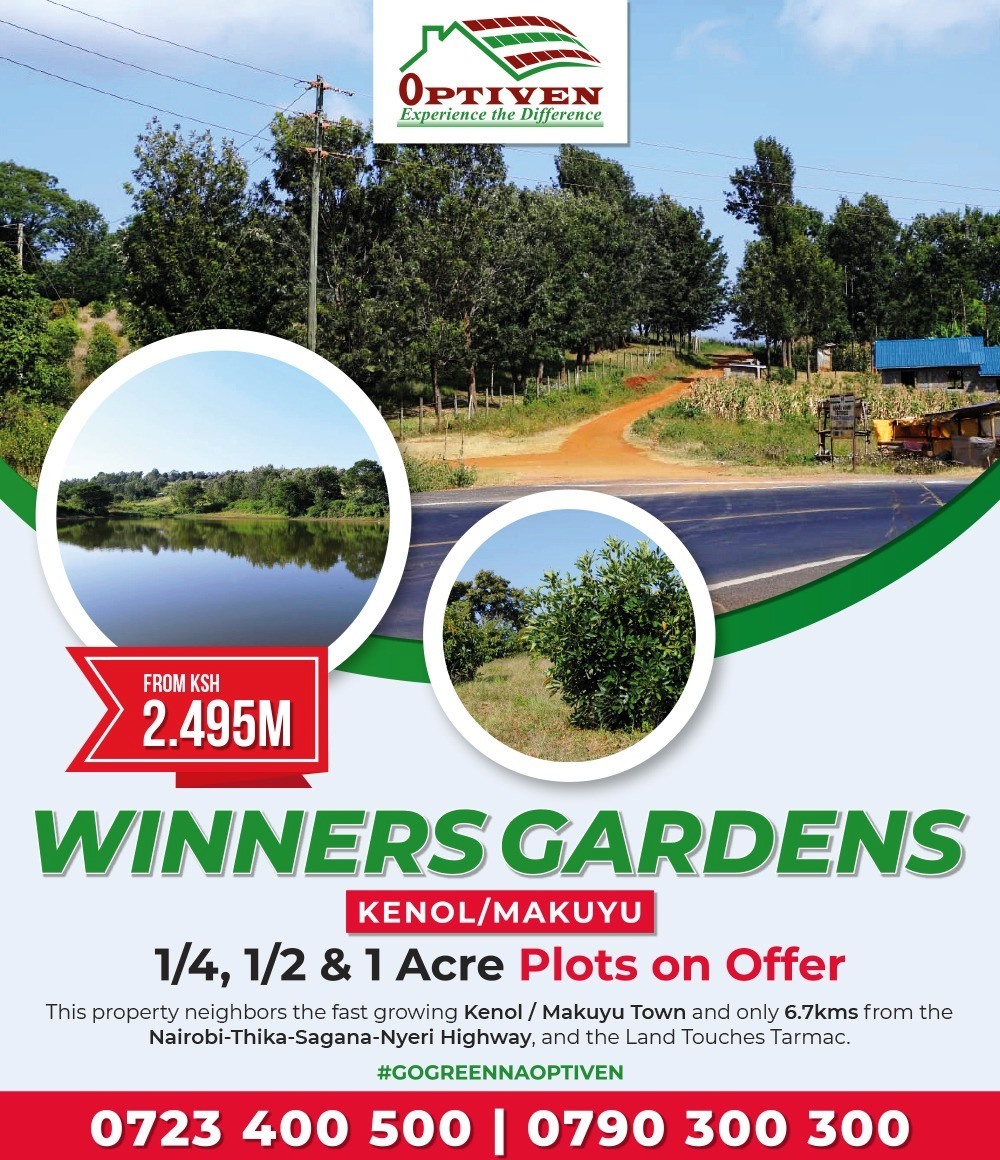 Where you Thrive
This is a property which is only meant for those who dream to live in an extremely leafy suburbs of the Nairobi Metropolis. The property is just INCREDIBLY IMPRESSIVE.  Winner Gardens – Makuyu resembles the Biblical Garden of Eden. Looking at the well-drained property, extra ordinary views, with portions of mature bananas, avocado trees, amazingly mature trees, piped water and backed up with massive concrete tanks full of water to use and boost the greening.
Set on an amazing location, this property neighbors the fast growing Kenol/Makuyu Town and only 6.7kms from the Nairobi-Thika-Sagana-Nyeri Highway and the Land Touches Tarmac. The Garden is subdivided in portions of One acre, Half acres and Quarter acres (Red soil).
Some portions will have avocado trees, bananas as well as mature trees and you can pick per your liking. The investment pricing varies with number of trees, bananas and Avocado trees in your property. It's the perfect Green Garden with a great choice of fruit trees. Plus the ease of access which is near the tarmac.
What's more, you can enjoy the Optiven award winning value additions including the coolest, internal murram roads, and most secure gated community in that region. Make that Winners' decision today and pick your property before it's all gone. You only need to pay 30% and balance on a one year installment plan.
Opportunity comes once and this is only for those who consider themselves WINNERS 🏆
---
---
Investment Offer
The Garden is subdivided in portions of One acres, Half acres and Quarter acres (Red soil).
1/4 acre starts from Kshs 2.495M and you can pick your portion as we advise you on prices depending on size, location and the views.
Subtitles will be ready in 6 months
Value additions to be completed in 24 months
---
Route Map


---


---
Enquire More on Winners Gardens – Kenol / Makuyu

Contact us
Optiven Limited
Head Office
Barclays plaza Loita street 14th floor Wing A
Branches
Kitengela: Acacia Junction (Right on Tarmac)
Postal Address: P. O Box 623-00600 Nairobi, Kenya
Tel: 0790 300300 , 0723 400500
Email: info@optiven.co.ke