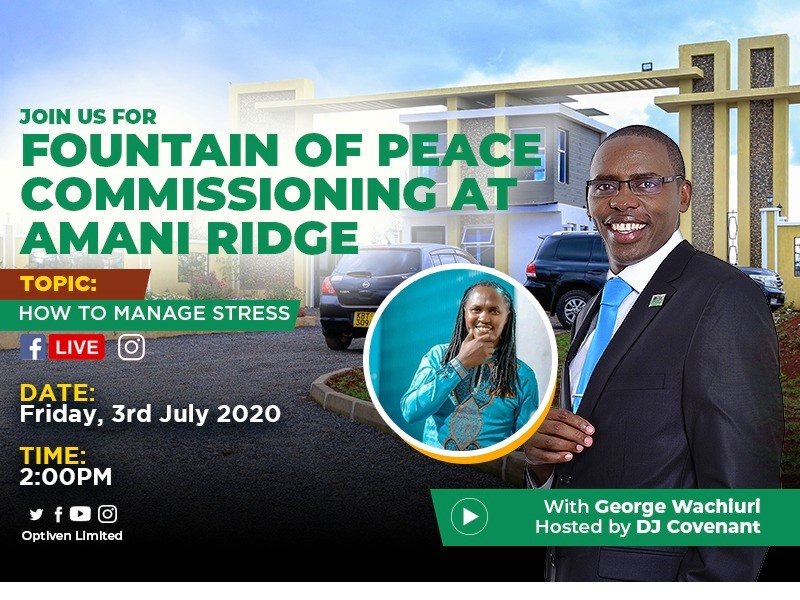 Join us as we launch The Fountain of Peace, a mind-healing phenomenon to all those who have joined Optiven family through owning a property at Amani Ridge the Place of Peace in Kiambu.
Picture this:
As you welcome your guests and friends and usher them into the residence through Amani Ridge the Place of Peace's Solomonic gate (which is now complete), their heads will be turning with awe and their mouths will be left wide open with amazement.
They will be asking you, 
"When did you buy this property and at how much?"
You will always be smiling with a deep contented feeling, as you respond,
"The project was very cheap, I think it was between 4.9M to 10.3M depending on size and the view." By then the prices will be between 25M to 75M.
This will be part of your chat as you drive past the saluting security personnel, into this superlative gated community and proceed towards your dream home using the awe-inspiring internal cabro roads.
This will be your story in the next coming few years.   Join us on the 3rd July 2020 LIVE on Facebook as we launch the Fountain of peace.
Want to be part of Amani Ridge the Place of Peace great experience? Get in touch with Optiven Today
Tel: 0790 300300 / 0723 400500
Email: admin@optiven.co.ke
George Wachiuri Blog: www.georgewachiuri.com
YouTube: https://bit.ly/2VdSuFJ