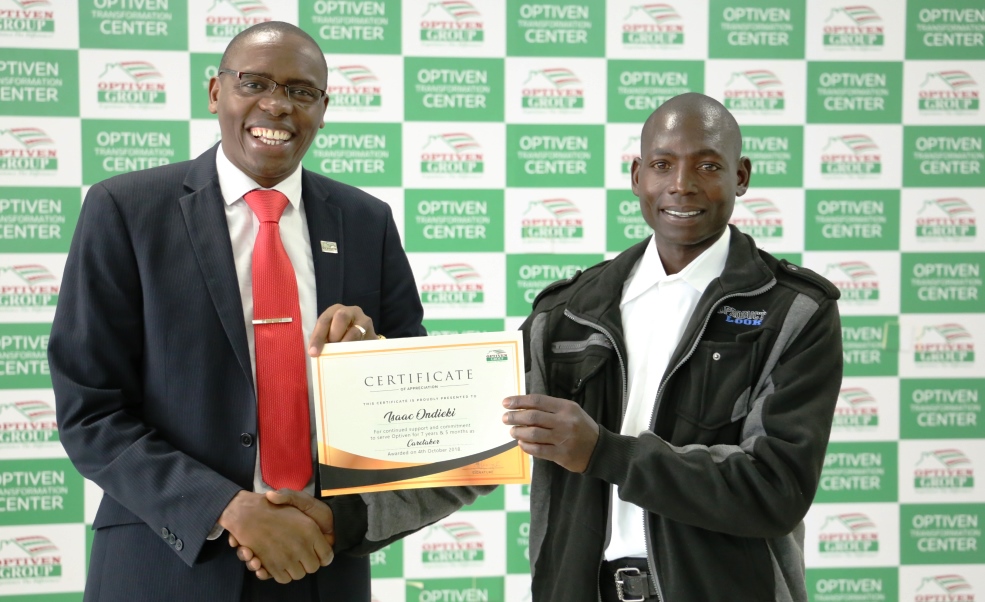 This is a special year for Optiven Group. It is the year that we are celebrating 20 years of transforming communities through what we do best, being pacesetters in real estate.
And even amidst Covid-19, this is an even more special dispensation of time for Isaac Boniface Ondieki. This gentleman who has now worked at Optiven for over 11 years just got overwhelmingly voted as the staff of the month of May 2020, by his colleagues, for his impressive display of professionalism.
Ondieki is a Senior Projects Attendant and has under his lustrous belt, very successful projects that span from Imani Breeze, Victory Gardens Phase 1 & 2 and now, he is the man who is in charge of Victory Gardens Phase 3, 4 & 5.
Watch more about Victory Gardens here
And Ondieki's dedication to his work hasn't gone unnoticed. "One thing that I have come to like about this gentleman is the love that he has for his family," says Optiven Group CEO, George Wachiuri. "He also has great love for the environment, especially in nurturing trees. Besides, he has an amazing passion for his work. This always comes alive with the way he handles customers who come visiting the projects where he is in charge. He does it with a special wholeheartedness."
According to Optiven CEO, Ondieki knows every customer who visits Victory Gardens by their names, and he knows the specific location of every plot in all the projects where he has worked. He is also always adorned in an Optiven brand every day of the week. Says Wachiuri; "You will always find him either in an Optiven T-shirt, Optiven Cap or Optiven badge whether it is on a Monday or a Sunday."
And this gentleman is now being celebrated by his fellow Optiven staff as a humble man who truly deserves being at the top, based on his passionate dedication to his calling.
"Ondieki recently handled two of my clients at Victory Gardens in such a professional manner and the feedback that we got from these clients was totally positive," says Faith Harry. She adds; "He attended to them with utmost excellence and respect and they were left with a wow factor. They called back to give their positive feedback about their experience with him."
"Ondieki is simply amazing. His customer skills are just remarkable," says Carolyn Kimani, who is joined by yet another colleague in lauding this staff of the month. "I can confirm that he is so good at what he does and is also very respectful to the clients, who are in turn always amazed by his service," says Chantal Agnes Awuor.
Dennis Kiguru Muturi can't agree more. "He is a true Optiven soldier. He always flies the Optiven flag high through his work and we value him for that. He has also made a great contribution to making Victory Gardens very green." See more about Victory Gardens here: https://www.optiven.co.ke/properties/victory-gardens-kitengela/
And so does yet another colleague, Margaret Wangui Wambugu, concur. Ondieki is an amazing person and his level of humility is at an extraordinary level. Clients are always very safe in his hands since he takes them through the process step by step. I salute him."
Indeed, most of Ondieki colleagues attribute his accomplishment to his humble disposition. "He is a very humble man and also down to earth. He has magical hands. Whatever he touches must blossom. He is obedient and kind. He is hardworking yet you hardly notice him breaking a sweat," says Martin Waweru.
"It is indeed this unadulterated humbleness that always radiates not only to the internal partners but also to the external publics. He has a disposition that is simply priceless. It might take you some coon's age to come across such a soul," says Muchiri Muchoki.
Another great attribute; "He is also extremely respectful, resourceful and always willing to help," Cecelia Ndegwa.
On this character of being respectful, Angela Marindich can't agree more. "I have a testimony from a client about this. Every keen person who comes across him will notice this disposition. And that is why I truly salute Ondieki," she corroborates.
"Ondieki is also very helpful to us, the field officers, and is a true guardian of the Optiven vision," states Solomon Chege.
His humble and unparalleled reputation will certainly keep him soaring. I urge him to keep this up and the skies will only be his fueling station," adds Gachanga Paul.
Almost all colleagues who spoke about Ondieki point something about his unmatched integrity. "This man is simply at another level. So much such that there are no enough words to describe his integrity and passion," asserts Nelly Muthoni.
When all is said, "Isaac Ondieki is an extremely diligent employee; he takes very great care of the projects that are entrusted to him and we have great trust in him. He is a person who always shows high levels of responsibility to his work. He is not only exemplary but also a great asset to Optiven," Winnie Muguiyi crowns it.
And true to his character, Ondieki on his part, is extremely flattered about all these praises that are being heaped on him by his colleagues. "We always work as a team here at Optiven and that is why I believe that everyone of us here is an employee of the month and I thank the entire team for actually being the best that there is."
Would you wish to own a property at Victory Gardens? Take advantage of the current offer: https://www.optiven.co.ke/newsblogs/buy-any-property-and-get-6-months-interest-free/
Get in touch with Optiven Today:
Contact Optiven Group: 0790 300 300
Email: admin@optiven.co.ke
George Wachiuri Blog: www.georgewachiuri.com
YouTube: https://bit.ly/2VdSuFJ
Kindly Share>>