Mombasa Road from the Central Business District of Nairobi Metropolis, is one of the busiest roads in East Africa.   Majority of the users are heading to buy land in Kitengela as an enormous Optiven billboard smiles at them on the right.  Optiven is among the many companies that has plots for sale in Kitengela key of which is the famous Victory Gardens at Acacia.  But why is Kitengela such a favourite for the growing interest of investors in the area?
Locality
Located a mere 30km from Nairobi, Kitengela has been experiencing a rather explosive surge of economic development.  The outcome is clear via the ever upcoming residential and commercial development projects.  Considered previously as the bedroom of Nairobi, Kitengela now offers pocket friendly house rents for realtors and its proximity to both Nairobi and Kajiado has been generally undergoing a property boom since 2011.  Besides this, it is on your way from Nairobi to Kitengela that you will find the Jomo Kenyatta International Airport, the Syokimau SGR Terminus, just to name of a few of the amenities.
Local Authorities
Kitengela's authenticity as a hub for local authorities has also endeared it to investors and the common mwananchi alike.   This is the home of one of the most robust counties in the country as it serves as the headquarters of Mavoko Sub-County in Machakos County.
Even on a bright morning, it is not uncommon to run into Matuyia Paul Kipamet MCA Kitengela Ward and other administrators of the local authorities.   But for the security of the citizens living in Kitengela, the area has access to different police stations including the Kitengela Police Station, and others at Mlolongo, Syokimau and Athi River.
Happy Gardens – Kitengela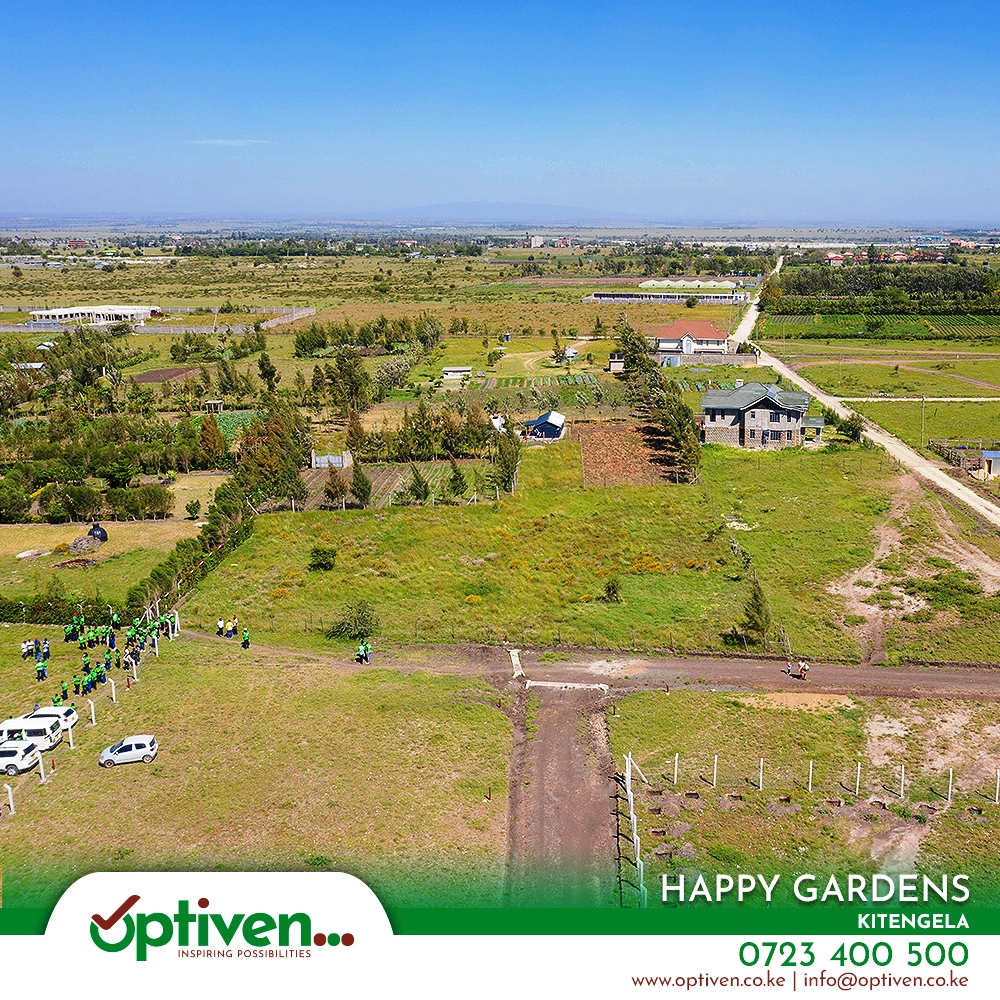 Happy Gardens by Optiven is a unique project that will offer permanent happiness, a perpetual smile and emotional bliss to all those who build their homes here. This project is strategically located near KAG University and within an area that is fully developed and with a well-established neighbourhood…. Read More
Infrastructure Development
This is the first thing that makes Kitengela a much sought after place to call home – the infrastructure development.   The main Namanga Road has been developed rapidly more so in the last two years.  So key is this road not just to the residents of Kitengela, but also to the region that it took four heads of state to launch the road.
President Mwai Kibaki of Kenya and Jakaya Kikwete of Tanzania together with Presidents Yoweri Museveni of Uganda and Pierre Nkurunziza of Burundi on 28th of April in the year 2009 inaugurated the Arusha- Namanga-Athi River road construction work.
The project which is one of the biggest in the East Africa Community in 2021 was then costing 156 million dollars and funded through concessionary loans from the African development bank, the Japanese Bank for International Cooperation (JICA) in collaboration with the governments of Kenya and Tanzania.  It is this road that enables investors to also access key amenities in the area including being located in proximity to the Syokimau.
Economic Development
It is only in Kitengela that one is likely to see a large presence of factories and industries respectively.  Here contractors of different projects are spoilt for choice when it comes to accessibility of materials such as cement.   It is here that you will find the headquarters and offices as well as staff quarters of the reknown  East Africa Portland Cement.  Others in the area are Savannah Cement, Simba Cement, Blue Triangle Cement, Mombasa Cement and Ndovu Cement among others.  The presence of these factories is a welcome precursor to the existence of Optiven Homes, right in the heart of Acacia where manufacture and production of concrete products happens www.optivenhomes.com .
Victory Gardens – Kitengela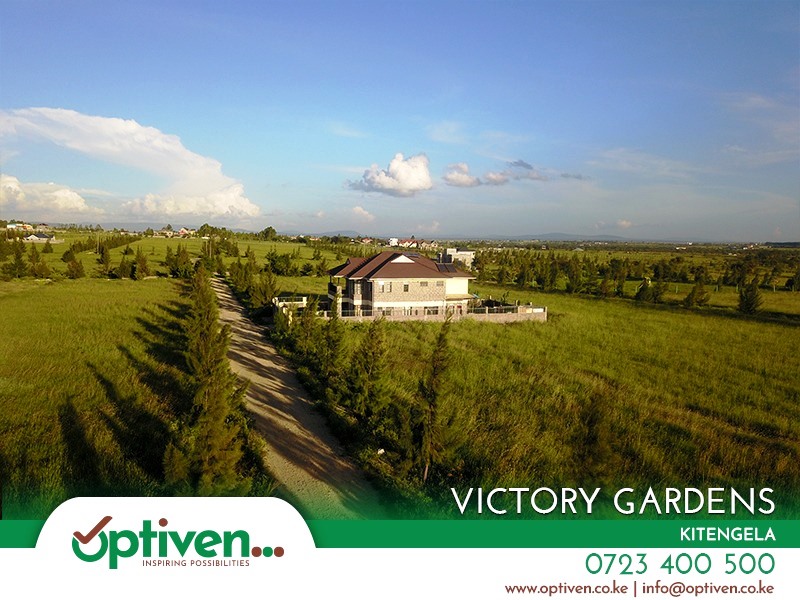 Welcome to Victory Gardens Kitengela. This is a prime property located only 10 minute drive from Kitengela town, 3.2Km off the Namanga Highway at Acacia Junction. This is a fully gated community is a controlled development project that comes with: A beautiful gate, Greening package, Solar street lighting, Fence and Caretaker , Internal murram roads, Water from a ready installed Borehole, House designs and estimated construction costs, and much more!
Industrialization
A visit to any of the IKEA stores in the United States of America will bear witness of the good work happening in the backyard of Kitengela.   This is because Kitengela is the home of  East Africa's largest processing zone – the Export Processing Zone where many textile industries are found.  The resulting effect is that Kitengela then becomes a hub that attracts a huge work force, all in need of a place to stay in proximity to their workplace.   What this then means is that investors in real estate both for personal and commercial have a ready market for their homes and residential houses respectively.
Residents for Rental Houses
On the most part, realtors such as PMC Estates agree that Kitengela is the home for cheaper rental homes.  With the wide variety of sizes of residential properties to choose from, Kitengela also offers good value for money for tenants.  This perhaps explains why both towns have seen a boom in demand for rental space for both residential, commercial and institutional.  Peter Kariuki, Managing Director at PMC Estates, "there's a high demand for low middle-income housing as tenants determine for economical units.
Especially with the Covid pandemic, predominant high cost of living and ambiguity in the economic environment, more and more tenants are seeking residents in affordable towns such as KITENGELA".  His sentiments echo well with the construction boom in Kitengela, the home of Optiven Homes at Acacia.
Charles Muraguri, the Director for Projects at Optiven Group says, "there is a significant rise in consumption of cement within Kitengela and construction has become the new way of life."   True to Muraguri's word, there is a clear indication that where Kitengela is concerned, top real estate developers are working overtime to satisfy a surge in demand for quality and affordable housing.
Amenities
Kitengela is the home of a number of amenities as it is located in close proximity to key social spaces as well as economic hubs.  State of the art and contemporary malls of all kinds which host different banks, hospitals, supermarkets, eateries and colleges are not invisible.   This is a welcome collection of amenities meaning that it is possible for residents in this area to settle in Kitengela without leaving to search for these amenities.   Here you will find Naivas Supermarkets, Family Bank, Aga Khan Hospital among others
Institutions
In any development, the place of learning institutions is key for the population in the area and it's residents.   Kitengela is no different and it's anchor institution the National Industrial Training Authority (NITA) continues to be a landmark.   But over the years, Kitengela has seen an upsurge in schools targeting the middle income families trooping to the town.  The array of numerous school buses crisscrossing Kitengela is an indication that the schools are here to serve the interests of residents.   From Noonkopir to Sabaki and even further to Emakoko and Enkasiti, schools are available for the pupils and students.  Kitengela is also home for universities including the KAG University, KCA University and Umma University among others.
Hospitality
When looking for fun, it is not a phenomenon to seek out fun places within the wider Kitengela area.  From hotels to eateries, and choma hubs for different meats, it is very vogue to have a meet up in Kitengela any day.  Whatever your fancy, it is here in Kitengela that you will find a place for Kenya's favourite food, Nyama Choma, a pool to cool the temperate climate of Kitengela, and a place where children can have fun.
All these activities wrapped up together, lead us to GMC Place Kitengela, where a spectacle of a man-made mountain enchants you as you wait to dig into the succulent meat on offer today.   The facility right on the tarmac is home to a dozen games for the little ones, a one of a kind swimming pool that is heated by solar and expansive grounds covered with lush greenery.
Featured extensively by Pam Golding Kenya, GMC Place Kitengela is an iconic location that should not be missed on your next trip to Kitengela. Well that said, it is Kitengela is definitely a bag of eggs to watch closely but even better a piece of cake to partake.  It is here that real dreams come to life for investors seeking to make a difference in the future.   And with all the reasons above and every indication of tremendous growth, why not come home to Kitengela?
Invest With us Today
Call us now: 0790 300 300 | 0723 400 500
Email: info@optiven.co.ke
By Cathrine Khasoa
Cathrine is the Lead for Corporate Affairs at Optiven Group.