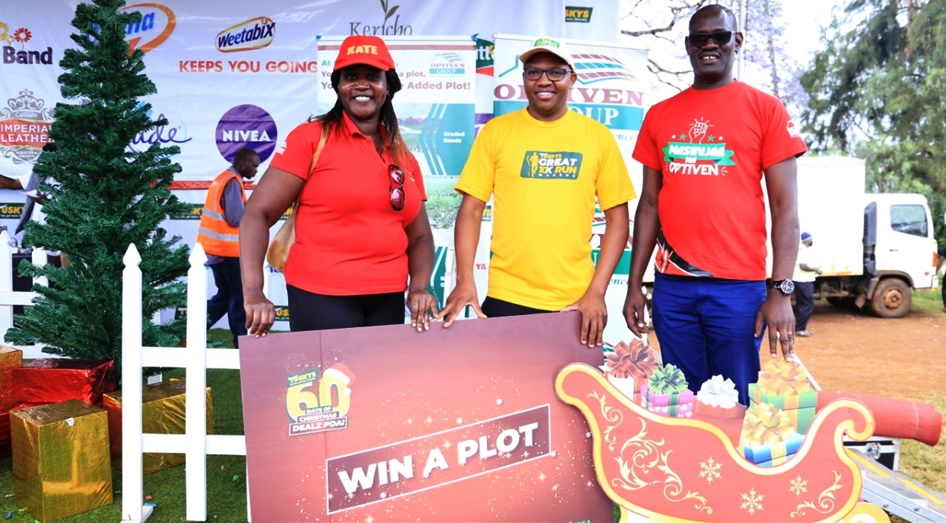 ABOVE:  Optiven's Senior Sales Manager Peter Gitonga (far right) with Tuskys Supermarket Chief Executive Dan Githua (center) and the Optiven Corporate Affairs Manager, Cathrine Khasoa (left) during the launch of Tuskys 60 Days of Christmas in Eldoret, Uasin Gishu County on 24th November 2019.
What could be more important than sharing the joy of christmas with your loved ones?  For many it is the peace of celebration of life with their relatives and friends while for some it is the sheer joy of the season coupled with the fanfare and food indulgence.
There are many reasons why Christmas is especially extraordinary.  But there are more offers across the board from different merchandising entities.  Never in the history of merchandise and season targeting has Christmas been more central to offers in business.
In Kenya the Christmas carols are already being heard with carols and offers from supermarkets and every other sale is targeted at the season.  But this Christmas will be different.  Gone are the days when winning a loaf of bread, a packet of flour, a bar of soap or a few other household items.
But with the partnership with Optiven, Christmas will not be the same for shoppers who spend at least 3000 shillings on shopping and make their payments via MPESA.
The new partnership that was signed on 24th November 2019 between Optiven Limited and Tuskys Supermarkets, will provide shoppers with opportunities to win 20 fully serviced plots.  According to Senior Sales Manager at Optiven Real Estate, Mr. Peter Gitonga, 'the offer will be available to shoppers at all the 60 outlets under the Tuskys Supermarkets countrywide. 
At Optiven Real Estate we are honoured to partner with Tuskys in this life changing venture where we are looking to improve the livelihoods of the winners in a unique way – which is giving a gift that is also a lifetime asset'.  Gitonga was speaking during the official launch of the 60 Days of Christmas with Tusky's  in the cosmopolitan city of Eldoret shortly after the issuance of medals, prices and hampers to winners of the Tusky's Wareng Half Marathon.
Speaking at the same event and exclusively to Optiven Real Estate, Dan Githua, Chief Executive at Tuskys Supermarkets noted that the partnership stamps the authority and legitimacy of Optiven as a trusted brand in the real estate sector.
According to Githua, 'we are confident that not only are the plots in the campaign genuine and with titles, but the winners can be assured that what Optiven has promised in terms of value addition is what will be available on the ground.'  Githua and Gitonga both noted that the process to disburse the plots to the winners will be transparent as it shall be electronic to ensure that all who enter have an equal chance of winning in an open manner.
The campaign kicked off soon after the signing of the offer and will run until January 2020.  Winners in the competition will also have a great opportunity to sample the award winning experience that Optiven Real Estate is known for.
Mr. George Wachiuri, Chief Executive at Optiven Group while commenting on the one of it's kind engagement noted that 'Optiven Real Estate thrives in doing things differently and even in our partnerships, we are extraordinary and innovative.  I am certain that these are the attributes that have advised the coming together of Kenya's top brands which are Tuskys and Optiven '.
His sentiments were echoed by his counterpart from Tuskys Mr. Githua who singled out the excellence of service with which Optiven Real Estate does it's operations as well as the guarantee that the winners will have genuine property.
Wachiuri adds that, 'the particular project that the winners in the Christmas in 60 Days with Tuskys will enjoy is one of the prime properties that Optiven has put together for our valued investors. And it best fits the season too because Christmas after all is about the joy of family, friends and faith through the birth of our Lord and Savior Jesus Christ'.
About The Garden Of Joy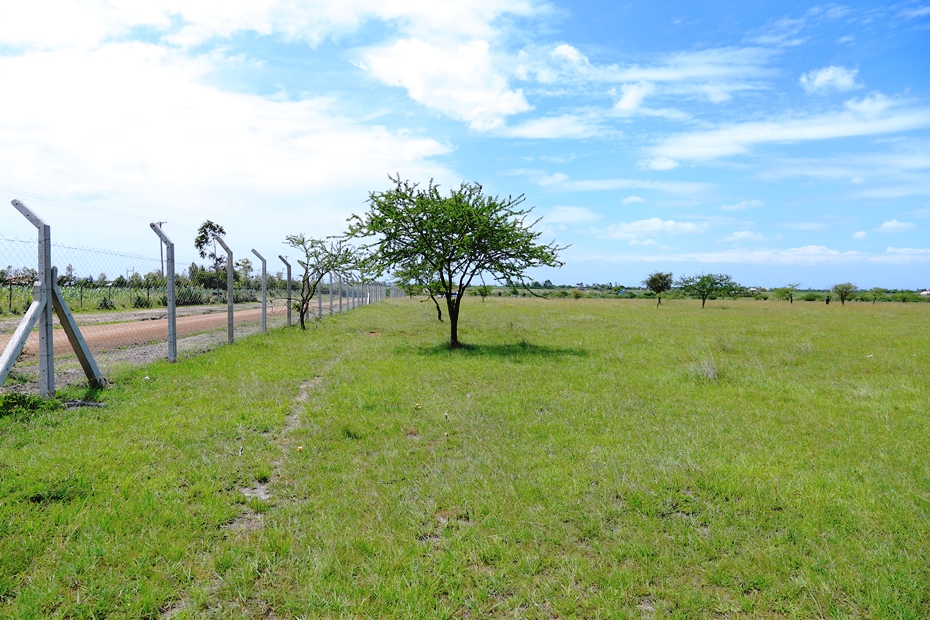 The Garden of Joy is an all-inclusive community development located at the heart of Machakos County, off Kangundo road, approximately 58 KM from the CBD, 1.3km off the tarmac, 7 minutes drive from Koma Town and 45km from JKIA.  Nestled in the middle of magnificent scenery, Garden of Joy is surrounded by breathtaking views of Lukenya Hills, Mua Hills and Koma Hill.
This homely ambience stirs a relaxed feeling, great for a comfortable and convenient lifestyle. Garden of Joy comprises of both residential and commercial properties in a secure gated community with secured fencing, internal marram roads making it most suitable for immediate settlement.
The residential 1/8 acre plots consist of plots arranged in Zones which offer smaller, convenient and organized communities within the larger garden of Joy Community.  This is an organized project that will enable ease of interaction amidst a urbane and stylish community set up.
Other amenities include green spaces key of which is the spectacular Lake Optiven, a splendid children playground, eco-friendly green zones that are suitable for bird watching, parks and a futuristic gateway with remarkable recreational facilities. Long term plan for Optiven.
For more information
Call us : 0703 831083
Email:  admin@optiven.co.ke