Optiven has brought to the fore it's footprint in the African continent this September 2022. The company which announced it's intent to engage the diaspora in June 2021 via a media interview with Johannesburg office of NCBA Africa network, had announced it's expansion plans to the continent in 2021 during it's rebrand in April 2020.
According to George Wachiuri, CEO, Optiven Group, the company is looking to be in 20 African countries by the year 2041. The roll out of visit series to Africa kicked off on the tail end of team visits to the United Kingdom, the USA and Germany between May 2022 to September 2022.
This is also part of the companies strategy to realize it's corporate vision as champions of social economic transformation as well as being listed as a company to inspire Africa by the London Stock Exchange Group LSEG. Wachiuri notes that as a leader, it is his job not to see Optiven as it is in 2022 but as it should be in 50 years or more, thus the expansion roll out of the strategy.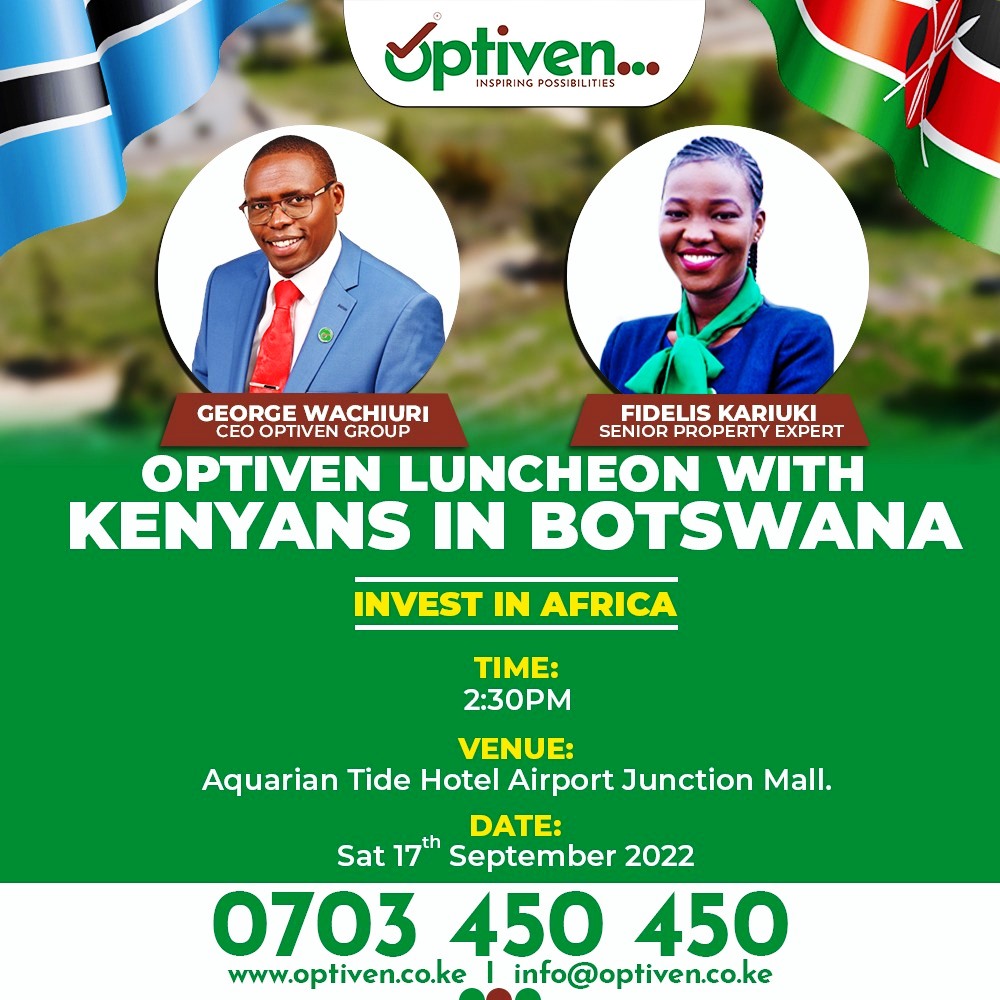 While in Africa between September to December 2022, the teams which will continue to empower Kenyans living and working in the diaspora have the mandate to also advise the investors on the need to invest home as well as the projects available within the larger Optiven Real Estate portfolio.
A scorecard on Optiven's Africa diaspora engagement has seen the country make business trips in 2017 to Ghana and Nigeria in the western part of the continent. Wachiuri says the opportunity opened up great engagement with the customers in terms of what avenues are available for them to invest back at home. https://www.optiven.co.ke/newsblogs/optiven-in-west-africa-ghana-and-nigeria-2/.
The team was also in South Africa in November of 2016 as part of it's strategy to reach out to Kenyans living and working in the rainbow nation. https://www.facebook.com/Optivenlimited/posts/team-optiven-is-in-south-africa-to-our-fellow-kenyans-in-sa-please-join-us-at-th/669552386553891/.
Angela Marindich, Diaspora Manager in charge of Africa at the Optiven Group says, "we are intent on taking the message to invest back home across the continent. Of course we are starting with about five countries but as our CEO said in June 2021, we are keen to see Optiven stable and functional in 20 African countries by the year 2041."
The big question then becomes, is Africa ready for Optiven and it's massive expansion strategy?
Invest with us
Postal Address: P. O Box 623-00600 Nairobi, Kenya
Call / SMS / Whatsapp : +254 790 300300
Diaspora :+254 790 667799 
Email: info@optiven.co.ke