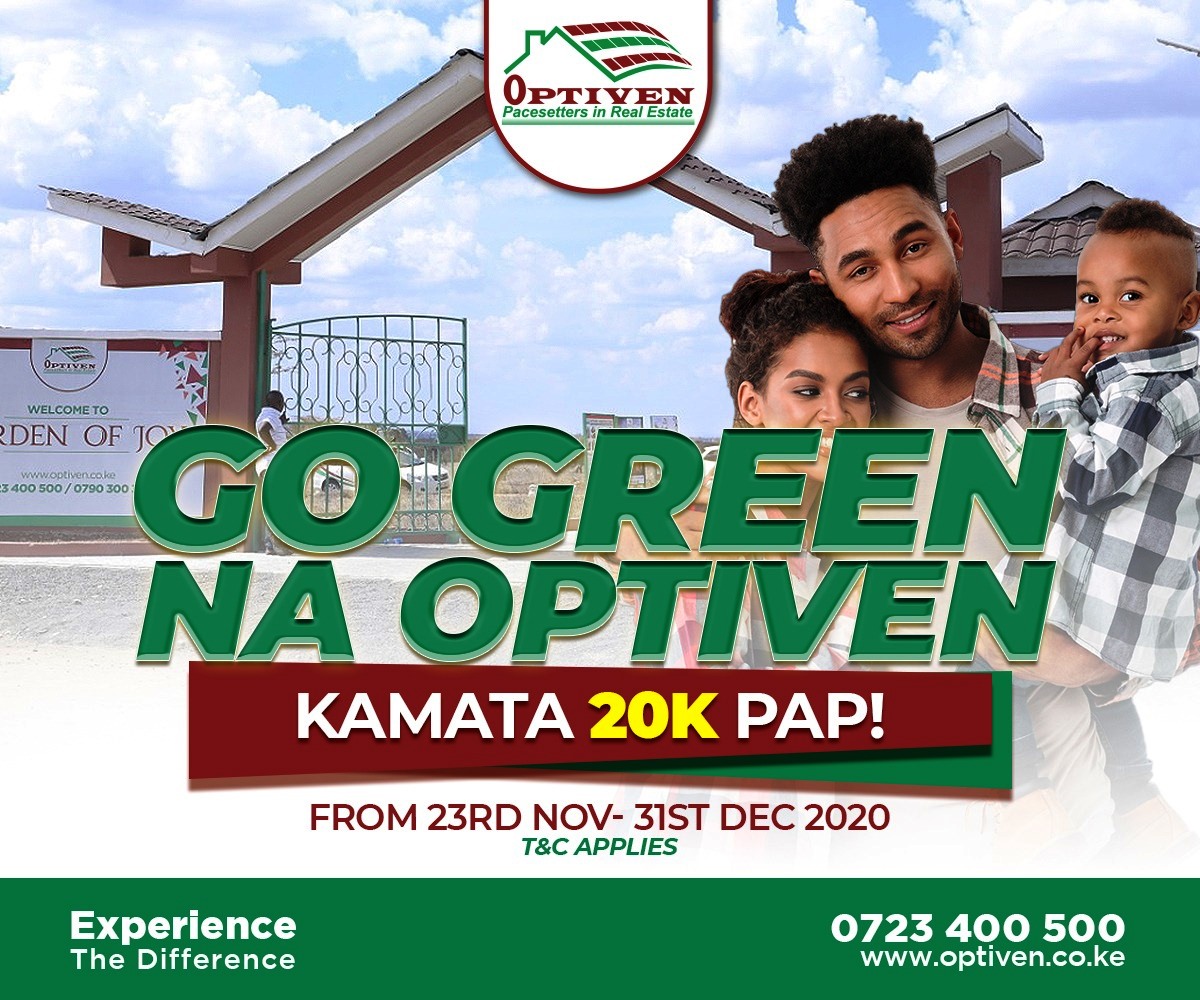 While the year 2020 has stretched many of us in many ways, Optiven Limited has been at the forefront in sharing hope through different platforms.  From reaching out through it's Foundation under the #ShareHope Campaign, to providing it's customers with an interest free 6 month period to pay off their plots and now providing a reward that is tangible to new investors.
Speaking at the launch of the campaign on 23rd November 2020, George Wachiuri, CEO at Optiven Group noted that this will cushion investors during the Christmas period amidst the challenges that have been facing us during the Covid pandemic.
To realise this reward, customers will only have to make a deposit of Ksh 500,000 for a new property under the Optiven Limited portfolio.  Once this is done, the customer will automatically qualify to Kamata 20k Pap! This according to Wachiuri will be in the form of cash and will run through the holiday season upto the end of the year 2020.
Wachiuri says, "Covid and its effects have thrown many of us numerous twists and turns, while presenting a number of highs and many lows.  But as the year ends, we would love to give you, your family and your loved ones a big smile, especially on these last days of the year with our special December offer".
Under the #GoGreenNaOptiven campaign Optiven is keen on enlarging the number of investors with land in their wealth portfolio.  The unique campaign will benefit investors with a piece of land that has ready titles, value additions, and ready to build Environment, you can actualize your dream of property ownership.
Already Optiven Limited has through it's project management division accelerated the value additions on its premier projects.  This year alone, the company has expanded it's transformative agenda on the projects by installing solar street lights, solar powered water features, biodegradable waste management technologies as well as greening of the different projects through using sustainable building methods, planting of trees and provision of greening common spaces in the projects.
Learn More
Tel: 0723 400 500
Email: info@optiven.co.ke