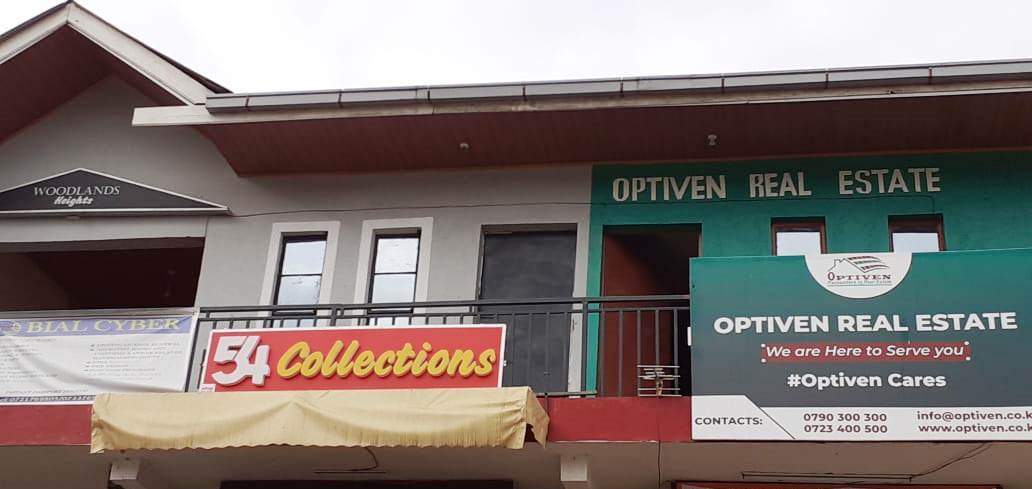 `The stability of investment risk in the real estate sector continues to make it one of the most vibrant vehicles for investors in terms of return on investment. This, coupled with a tradition appeal and almost guaranteed shield against economic turbulence thus makes real estate the go to investment when one is keen on their returns.
Mr. George Wachiuri, Chief Executive at Optiven Group says, 'real estate in Kenya has grown but there is still more room for expansion. The growth is largely from an increase in rural to urban migration in the last two or so decades. As stakeholders in the sector, what we see in turn, is the demand for both residential and commercial properties in urban and peri-urban areas.
The interest has been phenomenal with a surge especially in the last five years going upwards'. His views perhaps mirroring the strategy of sourcing projects that address such emerging and existing needs for those interested in commercial properties or for the many seeking out better residences for their families.
Dotted on the outskirts of Koma Town lies Rafiki Gardens, one of the few Optiven Limited projects with limited value addition but much preferred by many investors in the year 2020. Even with its relative affordability within the company portfolio, it is not limited in terms of what or how they build suffice for the residents' association agreement for the property owners.
Here, residents enjoy a perimeter fence, compacted murram access roads, and properly demarcated plots with beacons. Commenting on this, Wachiuri says, 'the interest from investors in Rafiki Gardens has been on a high with uptakes of up to eight or more plots.
Our customers also have the benefit of interest free payments that will continue until the end of October 2020 as part of our effort to cushion them during COVID 19 while staying true to our objective of including as many people as possible in the property ownership bracket.'
According to the analysis of customers, the interesting entrant in the acquisition arena has been investment groups commonly known as chamas as well as community based organizations. This is perhaps a ripple effect of the easy terms of payment and affordability of the project that goes for a unique price of 695,000 shillings for an eighth of an acre.
Interacting with Optiven customers who have made Rafiki Gardens their home, it is clear that investing in real estate is the way to go. For starters, investors can rest easy if the property is genuine as it appreciates in value over time. This lends credibility to an observation by Robert Kiyosaki who said, 'real estate investing, even on a very small scale, remains a tried and tested means of building an individuals' cash flow and wealth'.
If this is obvious, why are some investors jittery about investing in real estate?
The sector like any other has its challenges top of which is dishonesty among some of the real estate companies leading to fraud. On this, Wachiuri says, 'like any other sector even real estate has its challenges and risks. Understanding how the sector operates, and taking note of the trends and patterns of companies in the sector will help advise investors on where to put their money.
At Optiven, we are happy that our customers are our biggest supporters and some have not only referred their friends, but have invested again and again.' He has time and again called on investors to conduct due diligence by carrying out prior market investigations, feasibility studies, and appraise the companies before investing. So how does Optiven help customers to do this?
A visit to Optiven's Ruai office opens up the formula to the modern operandi of this award winning company. At the bypass, you are welcomed to Machakos County with a huge banner that mimics welcome boards of Texas in the United States of America. Safe for this one, it is in Optiven Country and introduces one the Garden of Joy. On arrival at the Ruai office, it is clear that Optiven prides itself in the brand it has become.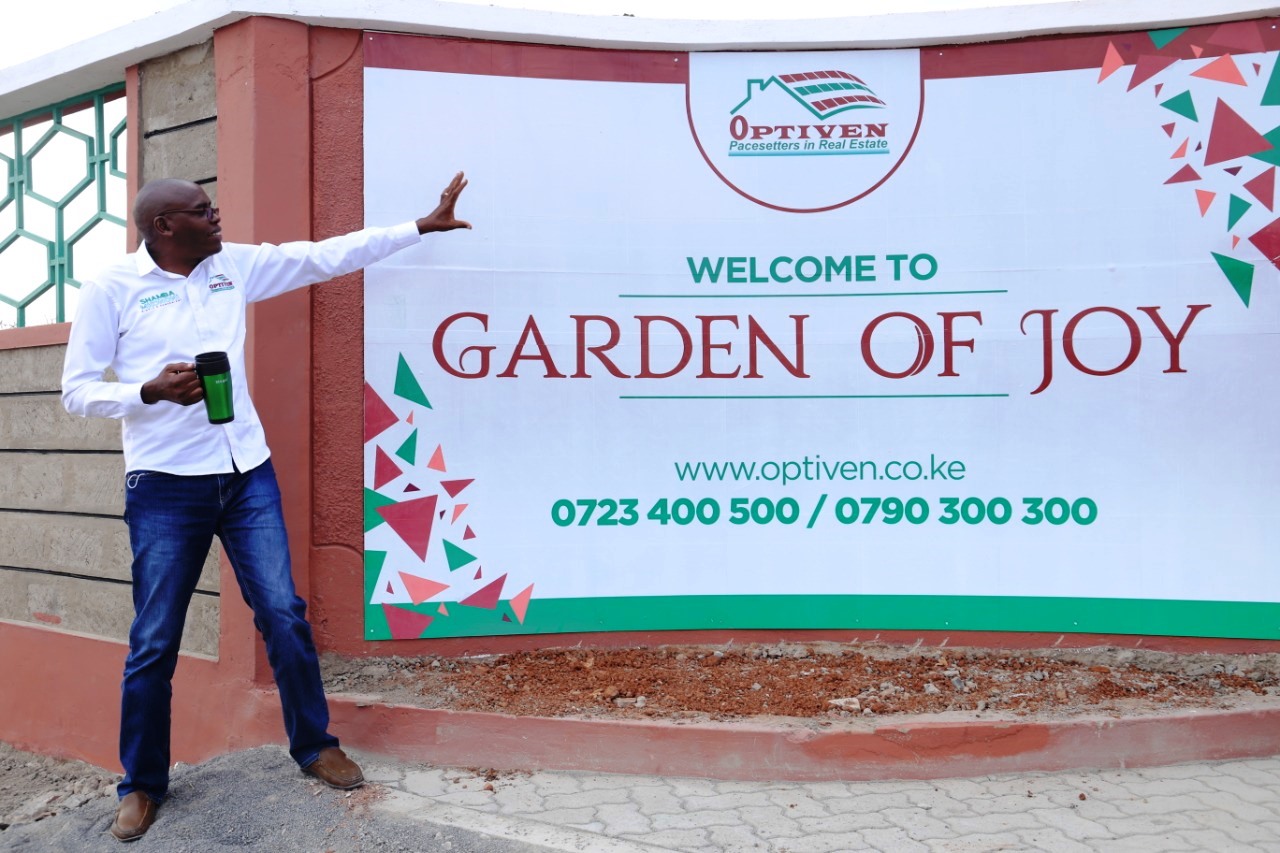 Here a vehicle boldly branded is being cleared in readiness for the next customer. The Customer Support staff doing this is well donned in a branded polo shirt and safely masked to ensure his safety and that of those around him. The office is also well branded making it easy to access on the first floor. Because Optiven is well known, it is easy to find the office by asking anyone round Ruai Shopping Center to directions.
On arrival you are met by Susan Mathu Customer Liaison Officer – a cheery lady, with a wealth of experience and knowledge on Optiven projects. She provides all the key information on the company's portfolio key of which is the Machakos projects – Garden of Joy and Rafiki Gardens.
A keen eye will observe that the Ruai office is fully adherent to the Ministry of Health guidelines on Covid 19 with the aim of reducing its spread. A client arrives in the nick of time, and is advised of the need to sanitize too. According to Mathu, 'Optiven as a company has adapted a one customer one vehicle policy during this COVID 19 season.
The customers are encouraged to wash their hands and sanitize while staff are aware that no handshakes with customers although we value them. Once in the company branded vehicle, we provide sanitizer for all our customers before leaving Ruai for the project.' Many customers however prefer to drive themselves to the projects to experience the difference that Optiven provides in the sector.
This difference is clear from the way the projects appear even before getting to the gates and engaging with the courteous caretakers on site. Peter Gitonga is the Managing Director at the Optiven Ruai Office, an astute sales man and experienced marketer in his own right. With a confident smile he says, 'we are glad that our Ruai hub is a buzz of activities and we are grateful to be of service to our customers.
Despite the season we are in, we are happy that our customers have shown great interest in our projects located in Machakos County. Some have seen our billboard, others are walk ins while others have been referred to us or have interacted with the brand on mainstream media.' According to Gitonga, customers investing in this projects are assured that the project is ready to build upon finishing their interest free payments of the competitively priced projects.
All this is all good for the customers bearing in mind the Optiven strategy of providing peace of mind for investment in their projects. The premier value additions that facilitate the ready to build ideal include security, caretakers on site, properly demarcated plots, ready title deeds, access roads on site as well as water, electricity and many other enabling benefits that make investing a joy.
All these answer the questions on each investors mind when venturing into real estate purchases:-
Is the project secure and within reach?
Apart from surrounding amenities, does the project have water, electricity and corporate support on ground?
When building, are my materials safe even when the customer is not there?
And to all these questions, where Optiven is concerned, the answer is a resounding YES!
You too can join the Optiven Family towards your dream of home ownership.
By Cathrine Khasoa
Cathrine serves as Lead for Public Relations and Media Liaison at Optiven Group.
Want to be part of our family? Contact us today on
Tel: 0790 300300
Email: admin@optiven.co.ke