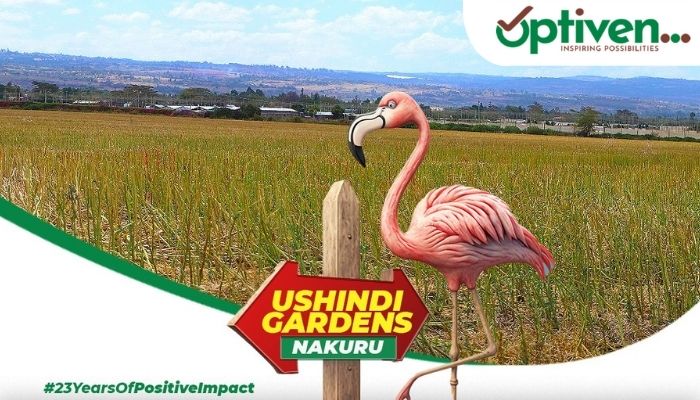 Project Uptake Spurs Investments.
Have you been looking for a place to settle? Or are you tired of paying rent and want to move to an accessible and strategic gated community finally?  Are you looking for available social amenities – learning institutions, health facilities, and good infrastructure?
A serene environment surrounded by beautiful natural settings and investment with necessary value additions. Look no further than Ushindi Gardens in Nakuru city. The beautiful project is located 1.2km off the Nairobi – Eldoret highway and sits distinctively with great topography, excellent weather for agricultural production and easy accessibility to the project.
What's more, is that Optiven Homes will take care of your building needs hassle-free as Optiven is a one-stop shop. Due to its city status, the neighbourhood is ready to build with rapid value appreciation.
Tom Kibet, Regional Manager at Optiven Real Estate says, "Nakuru city is one of the fastest growing cities in East and Central Africa with available and ready labour translating to the creation of more job opportunities. The city has seen massive transformation since its promotion with the expansion of transport systems, new health care facilities, recreational centres and more agricultural produce."
Nakuru county governor Susan Kihika this month was crowned patron of the Agricultural Society of Kenya and has challenged the ASK leadership to prepare for the show and work with county officials to ensure that they market Nakuru as the home of agriculture, industry and tourism.
So what will Optiven do on their jewel at Ushindi Gardens?
George Karanja, Liaison Officer for Optiven in Nakuru County says, "well, necessities such as water, an Optiven standard gate, grading of the internal murram roads and security with a mesh fence will all be on site. There will also be trees planted along the internal murram roads with solar street lights in line with the Optiven Go Green initiative. Finally, we will also do a community park for the investors that will act as a social space or for personal interests."
Nakuru city is still a very attractive market to invest in and this should act as a call to action as they say the land will never be as cheap as it was yesterday. According to the Kenya National Bureau of Statistics, Nakuru county home ownership shows a deficit of a big 70% on the population and we have an objective for social economic transformation in Nakuru city. The city is ripe and we are waiting for you at our offices at Golden life Mall 7th floor.
Invest Today!
Together inspiring possibilities.
#MauaNiPloti
#InspiringPossibilities
Contact Optiven Group
Tel: 0790 300 300
Email: info@optiven.co.ke
Kindly Share>>