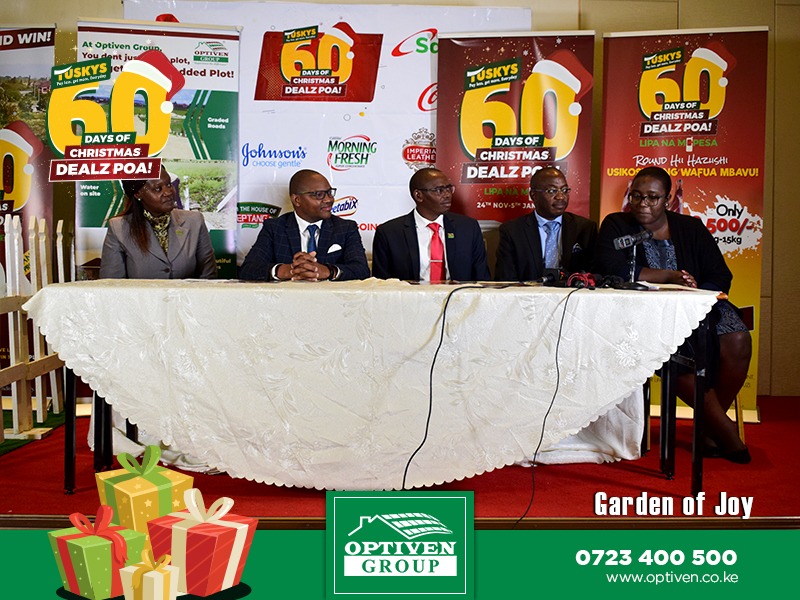 Nairobi | 5th December 2019
"The projects affiliated to the Optiven Group continue to stand out for their organized value addition that range from water, electricity, security and infrastructure.  We are happy that our customers will be beneficiaries of one of the top projects in the Optiven portfolio, courtesy of Tuskys"
Dan Githua, CEO | Tuskys Supermarkets
---
Optiven Limited, Kenya's leading real estate company is the choice partner for Kenya's leading Supermarket Tuskys as it rolls out it's newest campaign "60 days of Christmas with Tuskys".  The campaign launched in Eldoret will see over 20 shoppers walk away with title deeds for their properties located in the cosmopolitan county of Machakos.
Addressing the media in Nairobi, Dan Githua, CEO Tuskys Supermarkets said, '2019 Christmas for our customers will definitely be different as we are keen to innovate and provide them with special gifts top of which is a piece of land.'   The campaign which runs for 60 days to January 5th 2020, will be open to shoppers at any of the 60 Tuskys Supermarket branches countrywide.
Daniel Koech, the General Manager for Business Development and Customer Experience, says 'all customers spending 3000 shillings will have an opportunity to win the piece of land and many other exciting prizes in a transparent exercise that has been automated. 
We have already had two winners including one from Kisumu in our first awarding ceremony that was held on 30th November 2019 at T-Mall Tuskys in Nairobi.'  He added that customers are guaranteed to take home quality and all the different stores under the grand Tuskys Supermarkets network are ready to provide value and variety at the most affordable prices.
The event was graced by Mr. George Wachiuri, CEO at Optiven Group who hailed the move by Tuskys Supermarkets to partner with the leading Real Estate company in Kenya.  Wachiuri noted that, 'the values espoused by Tuskys Supermarkets merge well with those of Optiven Group and it is a humbling experience for us to be able to transform the lives of the 20 winners that will take home title deeds during the 60 Days of Christmas with Tuskys'.
He assured the public that the promotion is real and the property is available even for the public to view but more importantly to ensure that they make their purchases from Tuskys.  Wachiuri added that the expertise by Optiven Limited in the Real Estate sector spans over 20 years with over 70 projects having already been sold out and titles issued out to the investors.  'We guarantee that the plots are as real as can be and can confirm that we have already put power, water, security, electricity and greening spaces on site.'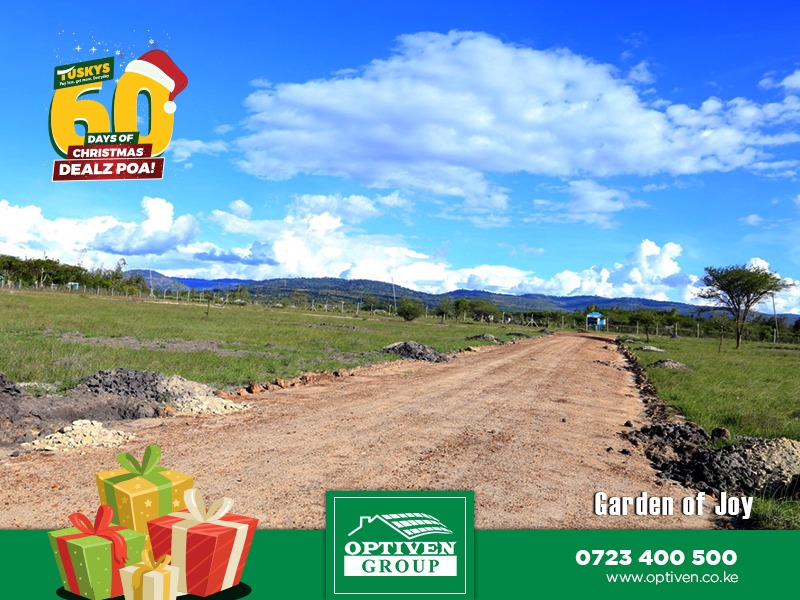 The campaign will run until the 5th of January 2019 and the process according to Koech, has been listed under the BCLB – Betting Control and Licensing Board.  All winners will be notified following a public announcement on television with the names being announced by the Tuskys team in the different branches.
Winners will also have a variety of prizes including goats, make overs, shopping vouchers, electronics and an opportunity to acquire merchandise through a special hire purchase that is interest free in the Lipia Pole Pole option.
ABOUT Tuskys Supermarkets
Founded in 1990, Tuskys is a Kenyan supermarket chain. It is one of the large supermarket chains in the Great Lakes Area. It employs nearly 6150 people, 6,000+ in Kenya, and 150 in Uganda. As at December 2019, Tuskys owns and operates sixty supermarkets.  It is a wholly Kenyan, privately held company.  Previously, Tuskys has held successful Christmas campaigns key of which have seen customers winning cars in 2017 and 2018 respectively.
To Invest with us Please Contact us at
Optiven Limited
Head Office
Barclays plaza Loita street 14th floor Wing A
Branches
Kitengela: Kitengela: Acacia Junction (Right on Tarmac)
Postal Address: P. O Box 623-00600 Nairobi, Kenya
Tel: 0790 300300 , 0723 400500
Email: info@optiven.co.ke