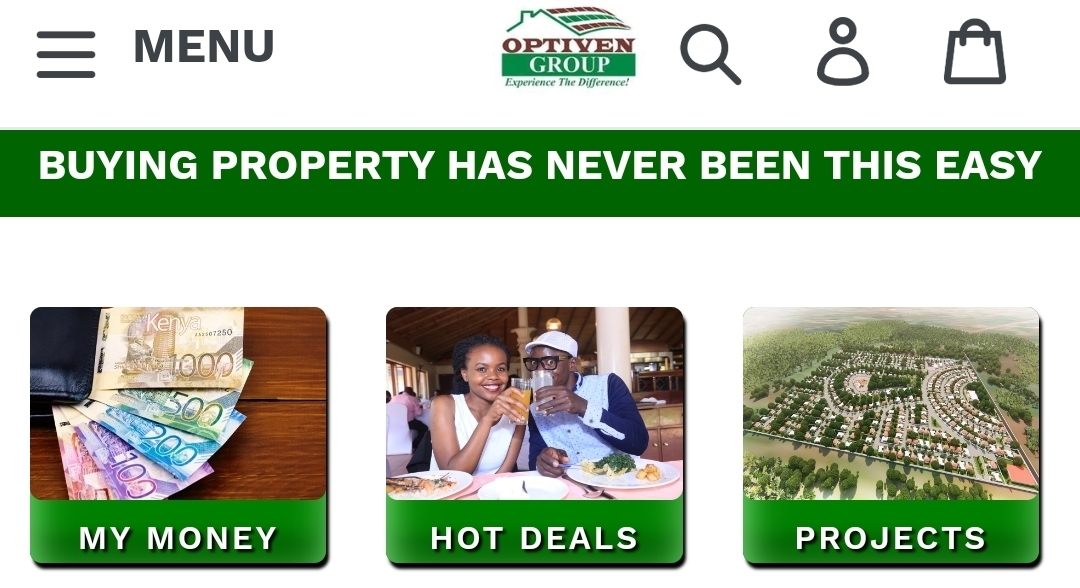 Worried that your plan to buy land may not work, especially now that you are probably confined in your house? Worry no more. Here are some quick steps that you can follow, to make your land buying dream a reality:
Step 1: Go to your Google Play Store or App Store on your smartphone and Search the name 'Optiven' and Install the App.
Step 2: Open the Icon named 'Buy land'
Step 3: Scroll down to choose any of the numerous listed projects. All the projects on offer will be displayed. Click on your preferred project, for instance Amani Ridge – Ruiru, Kiambu County, and select your plot number of choice.
Step 4: View Property: Tap into any of the available plots that you are interested in. Proceed to choose the plots that are available for sale. Under this, the App will generate the specific plot size, and a platform for choosing your payment plan.
Step 5: Fill in details on the fields displayed, for example, Your Deposit Amount, Number of Installments you want (if not buying in cash), your agent and your ID Number or Passport. Confirm all the details then click proceed to order.
Step 6: You will be directed to review your order details. Confirm all the details are in order. There is also an optional field where you can input a discount code (5, 000 Shs off). Proceed to the next page.
Step 7: Select your preferred mode of payment, for example, Project Bank account or Mpesa, then proceed to click 'Place order'.
Step 8: You have successfully placed your order. You can proceed to download your Sales Agreement. Plot is now reserved for 48 hours pending receipt of your deposit.
Contact Optiven Group: 0790 300 300
Email: admin@optiven.co.ke
George Wachiuri Blog: www.georgewachiuri.com
YouTube: https://www.youtube.com/user/OptivenEnterprises/featured