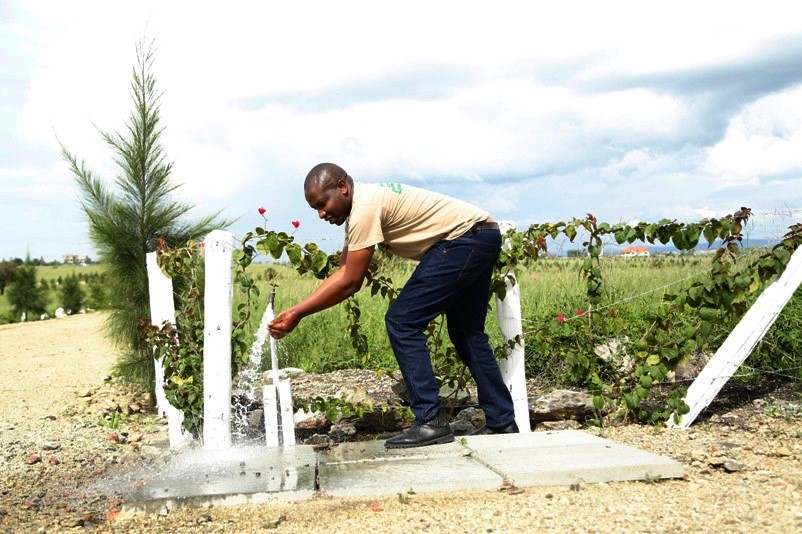 Water is a scarce resource and communities spend ample time to search for it. I recall back in my formative years when we were in the village and how we used to trek 10kms just to fetch this precious commodity – water. I personally know what it means when this resource is not readily available for domestic use.
This is one of the Motivations that inspired us to set up a reliable water supply in our extremely prime super value added & transformed project in Kitengela. Indeed, Victory Gardens Phase 3, 4 & 5 has moved from being outstanding to the Topmost Standard, the benchmark of gated communities in the Nairobi Metropolis. Certainly, you cannot talk of any property today without a reference to Optiven's Victory Gardens.
The buyers of this project are extremely happy that they have a No. 1 project in Kitengela.
So far, we have 100% completed the following:
Solar Street Lights – All street lights now installed and working ✅
Entry (Optiven Avenue) & internal roads – Murramed ✅
All Internal Roads – Names & Labeled ✅
Gate – Done ✅
Uniformed Security – On site ✅
Entry Check barrier – Installed ✅
Trees – Thousands of trees planted ✅
Title Deeds – Available ✅
And now, we are happy to let you know that water future issues are entirely sorted.
David Engineering Ltd officially started excavation works at VP5 on July 10, 2020 as part of installation of a 15 meter high elevated Water Tower that will have a capacity to distribute 40, 000 litres of water to all the residents of this prime gated community.
Want to be part of the Optiven Family. Get in touch with Optiven Today
Tel: 0790 300300 / 0723 400500
Email: admin@optiven.co.ke
George Wachiuri Blog: www.georgewachiuri.com
YouTube: https://bit.ly/2VdSuFJ