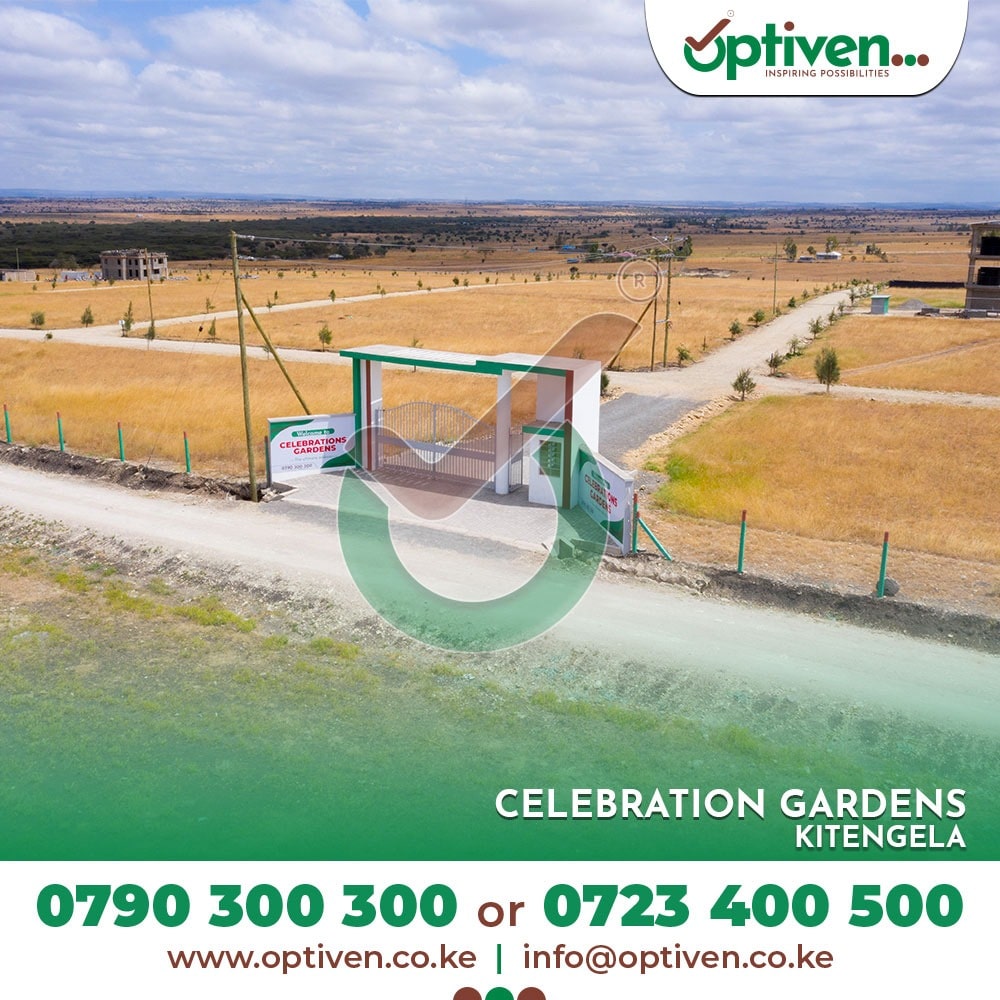 We are pleased to introduce to our clients, an extremely inspiring new gated community, Celebrations Gardens – Kitengela. Located off the busy Namanga Road and only 10 minutes' drive from Optiven Business Center, this project is only 12 minutes away from the famous GMC Place and only 4 minutes from the Award winning Victory Gardens.
The scenes inside and around this project are simply panoramic. The terrain of Celebrations Gardens is extremely good and water flow is very normal as topography is just excellent.
The neighborhood is all developed with fantastic and excellent homes where people have already settled. There are many more developments expected around this immediate neighborhood; for example, the upcoming International Leadership University's Main Campus is Kitengela is just a leisurely walk away for Celebrations Gardens.
Celebrations Gardens will be pampered by planting of trees along all the well-labelled internal streets, water piping will be done along these streets and water provision will be assured by drilling of a borehole within this great project. At the same time, security will we well taken care of by the fencing which will be part of this project as well as a modern gate to top it up.
We are currently offering slightly below the market price for the first few plots. The early bird offer is Ksh1.425M as we await the value additions to be in place. Those who commit early will live to celebrate as the value rapidly escalates upwards.
---
---
---
Book a Site Visit or Enquire More on Celebration Gardens – Kitengela



Contact us
Optiven Limited
Head Office: Absa Towers Loita street, 2nd Floor
Postal Address: P. O Box 623-00600 Nairobi, Kenya
Call / SMS / Whatsapp: 0790 300300 / 0723 400 500
Email: info@optiven.co.ke
Branches
Optiven Global Office – Zamani Business Park, Karen
Kitengela –  Optiven Business Center – Acacia Junction
Nanyuki – Ubii Plaza, 2nd Floor along Kenyatta Highway
Nakuru – 7th Floor – Golden Life Mall
Mtwapa – Shifa Arcade-2nd Floor, Office No. B5
Kindly Share>>