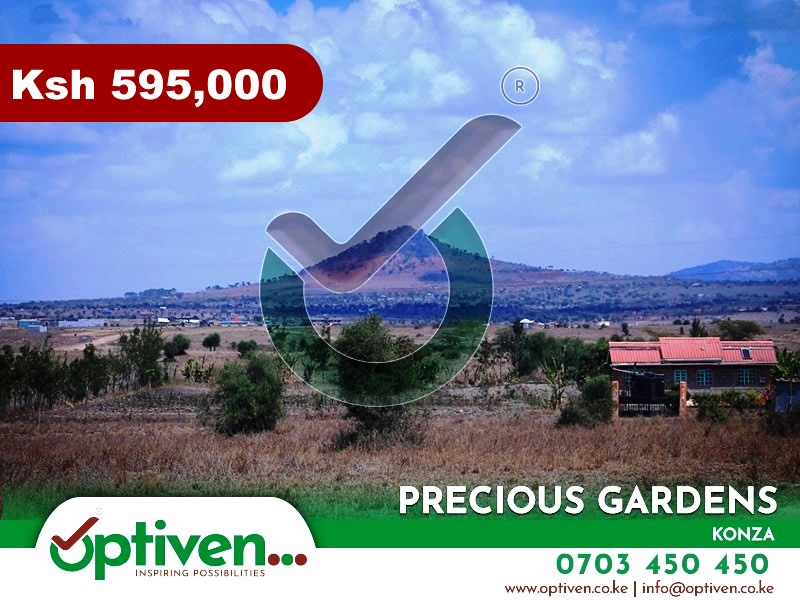 Nature of the product
Vacant land parcel held vide a Freehold Interest
Land use
Residential and commercial purposes
We have few commercial plots along the Bypass
Area : 1/8 Acres
Address : Malili Township
Features: One star
Location
Konza Malili area, along Konza-Isinya Bypass Road with high possibility of being tarmacked soon
Distance from Mombasa road 3 km and 6 km from Konza City
Distance from nearest town – 3km from Malili town along Mombasa Road
Topography
Flat well drained areas, excellent gradient and amazing views of Konza Headquarters & Fast growing Malili Town
Amenities and Other Infrastructural Services
Graded roads, barbed wire fence.
Along Isinya-Konza bypass
Public & Private schools, shopping facilities, banks, entertainment joints, religious centres among others are situated with in the area.
Main electricity is in the neighbourhood.
Water in the neighbourhood – By boreholes from Community in the area or one may as well decide to drill and sell water to the community – One star property.
The Neighbourhood
Characterised by Inspiring View to beautiful Hills.
The area is slowly turning residential due to proper view to Konza Technolopolis City.
Only 3km from the fast growing Malili town.
The area is coming with great commercials as many plan to benefit from the upcoming city.
Future developments plans
Residential, commercial development, city homes, entertainment centers and shops for those who buy commercial plots
Advantages of buying here
Price Appreciation
Neighbourhood which will quickly developing
You can put up Commercial investment.
Payment plan
Ksh 595,000 – Cash purchase payable in 14 days
Ksh 615,000 –  Payment in 30 days
Ksh 630,000 – Payment in 6 Months
Ksh 670,000 – Payment in 12 Months
Ksh 695,000 – Commercial plots
50% Deposit – For the 3, 6 and 12 monthly installments
Title Deeds
Free Title transfer if you finish paying within three months ending 30th February 2022
Title deeds available after 6 months
---
Enquire More on Precious Gardens – Konza

Contact us
Optiven Limited
Head Office
Absa Towers Loita street 14th floor Wing A
Postal Address: P. O Box 623-00600 Nairobi, Kenya
Tel: 0790 300300 , 0723 400500
Whatsapp : https://wa.me/254790300300
Email: info@optiven.co.ke
Branches
Kitengela: Kitengela: Acacia Junction (Right on Tarmac)
Ruai:Dune Plaza