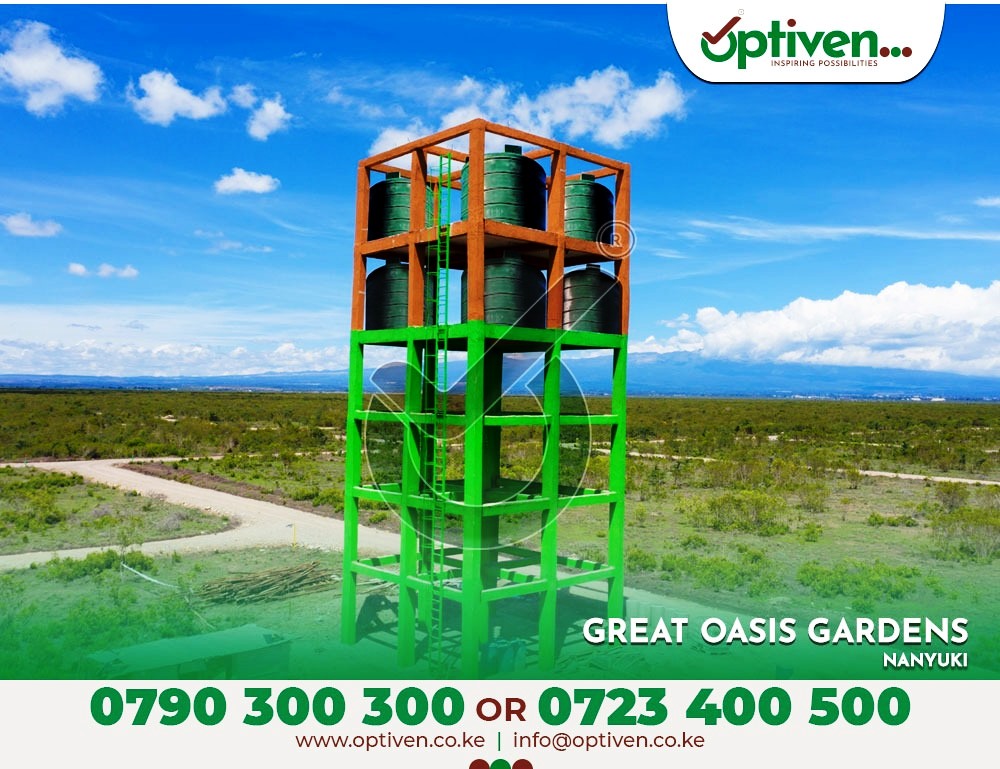 BIGGER is BETTER
What can you do on your large parcel of land that is perfectly situated just north of the Equator (0° 01′ North)? The Great Oasis Gardens – Nanyuki  is located along the Nanyuki-Rumuruti Road, which has been proposed for tarmacking. Those who book early will get and secure a special price for their 1/8th acre , 1/4 acre,  1/2 acre , 1 acre and 5 acres properties.
---
Main Facts About This Property
Address: Nanyuki Township
Features: Three Star Project
Land use – Residential and Commercial Development
 Location

The Great Oasis Gardens – Nanyuki is located at only 12 minutes from THE famous Cedar Mall and 8 min from Nanyuki training and referral hospital. 7 min from British Army and directly opposite Mt Kenya Wildlife Estate and slightly before Ol Pejeta Conservancy main entry gate.
Optiven PROMISE on this development

Borehole water
The entire project will be fenced with an electric fence.
Five gates will be installed.
A registered security firm will oversee the development, working alongside the project manager
Elevated water tank
Murram roads
14 Strand Electric Marking fence
Theme Park (a replica of what Optiven has done in Kitengela – www.funplace.co.ke)

Topography

Flat land, well drained, excellent gradient and good soil

Views and Sceneries

The Great Oasis Gardens – Nanyuki has amazing sceneries that include; a clear view of Mt. Kenya & Aberdare Ranges, Lolldaiga Hills, and a nearby wildlife conservancy (ranch) that offers you a rare opportunity to view rhinos, cheetahs, and giraffes, amongst other wild animals at are just across of secured ranch
---
Amenities
Water
Murram roads
Main electricity in the neighborhood
Public & Private Schools available in Nanyuki and environs
Town life on the vicinity
Along Nanyuki- Rumuruti Road due for tarmacking.
---
Top 20 business you can do in this project
Holiday homes
Petrol station
Houses for Rental
Houses development for sale to huge population in Nanyuki
Resorts
A hotel
A Mall
Hardware
Hospital/ Health clinic
Private School
Prayer center/ Church facility
Green grocer facilities for lease
Car accessories
Warehouses
Steel structure business
Internal ICT offices
Unique entertainment joints to attract happy Nanyuki population
Lodge's
Hair Salons, barber shops & massage facilities.
Any business of your passion.
---
Six Things that you must know about The Great Oasis Gardens – Nanyuki
Upcoming Tarmacking: With tarmacking coming up along this project, as an investor you stand to gain BIG. Your friends will marvel on your investment prowess and intelligence on investing strategically at The Great Oasis Gardens – Nanyuki.
Proximity to Nanyuki Town: Nanyuki Town is known for being a place of happy life. And with who-is-who being part of The Great Oasis Gardens – Nanyuki, you stand a chance to keep smiling all through.
Strategic Location: On any investment, it's about three things 1. Location 2. Location 3. Location. The Great Oasis Gardens – Nanyuki is defined by its prime LOCATION.
Buying Early: Buying now before VALUE ADDITIONS is solomonic wisdom. You will enjoy friendly prices. You only need to register and enjoy zero deposit and Zero payment for now.
Infrastructure: With the Dualling of Nairobi-Kenol-Marua Road, the Nanyuki railway and massive county infrastructural development, The Great Oasis Gardens – Nanyuki is simply a SURE BET.
Nanyuki's Thriving Economy: Finally, the presence of 3 army bases, most liquid and money flowing Nanyuki town, thousands of tourists visiting this town, excellent weather, amazing views makes The Great Oasis Gardens is the best project in Nanyuki.
---
Property Offered:
Option One – 1/8 Acre Plots

Ksh 379,000 cash in 30 days
Ksh 390,000 cash in 3 months
Ksh 400,000 cash in 6 months
Ksh 425,000 cash in one year

Option Two – 1/4 Acre Plots

Ksh 735, 000 Cash within 30 days
Ksh 760, 000 Cash within 3 months
Ksh 780, 000 Cash within 6 months
Ksh 825,0000 Cash within 12 months

Option Three – 1/2 Acre Plots

Ksh 1, 395, 000 Cash within 30 days
Ksh 1, 437, 000 Cash within 3 months
Ksh 1, 480, 000 Cash within 6 months
Ksh 1,565,000 payable in one year

Option Four – 1 Acre Land (Residential)

Ksh 2,695,000 cash purchase payable in 30 days
Ksh 2,775, 850 payable in 3 months
Ksh 2,856,700 payable in 6 months
Ksh 3,018,400 payable in One year

Option Four – 1 Acre Land (Commercial)

Ksh 3.195M per acre for the land that touches the near-to-be-tarmacked Nanyuki – Rumuruti road
Ksh 3,386,700 payable in 6 months
Ksh 3,578,400 payable in One year

Option Five – 5 Acres Blocks

Ksh 13,475,000 payable in 30 days
Ksh 13,879,250 payable in 3 months
Ksh 14,283,500 payable in 6 months
Ksh 15,092,000 payable in one year
---
---
Book a Site Visit or Enquire More on The Great Oasis Gardens

Contact us
Optiven Limited
Head Office
Absa Towers Loita street, 2nd Floor
Postal Address: P. O Box 623-00600 Nairobi, Kenya
Call / SMS / Whatsapp: 0790 300300
Whatsapp: https://wa.me/254790300300
Email: info@optiven.co.ke
Branches
Optiven Global Office – Zamani Business Park, Karen
Kitengela –  Optiven Business Center – Acacia Junction
Nanyuki – Ubii Plaza, 2nd Floor along Kenyatta Highway
Nakuru – 7th Floor – Golden Life Mall
Mtwapa – Shifa Arcade-2nd Floor, Office No. B5
Kindly Share>>