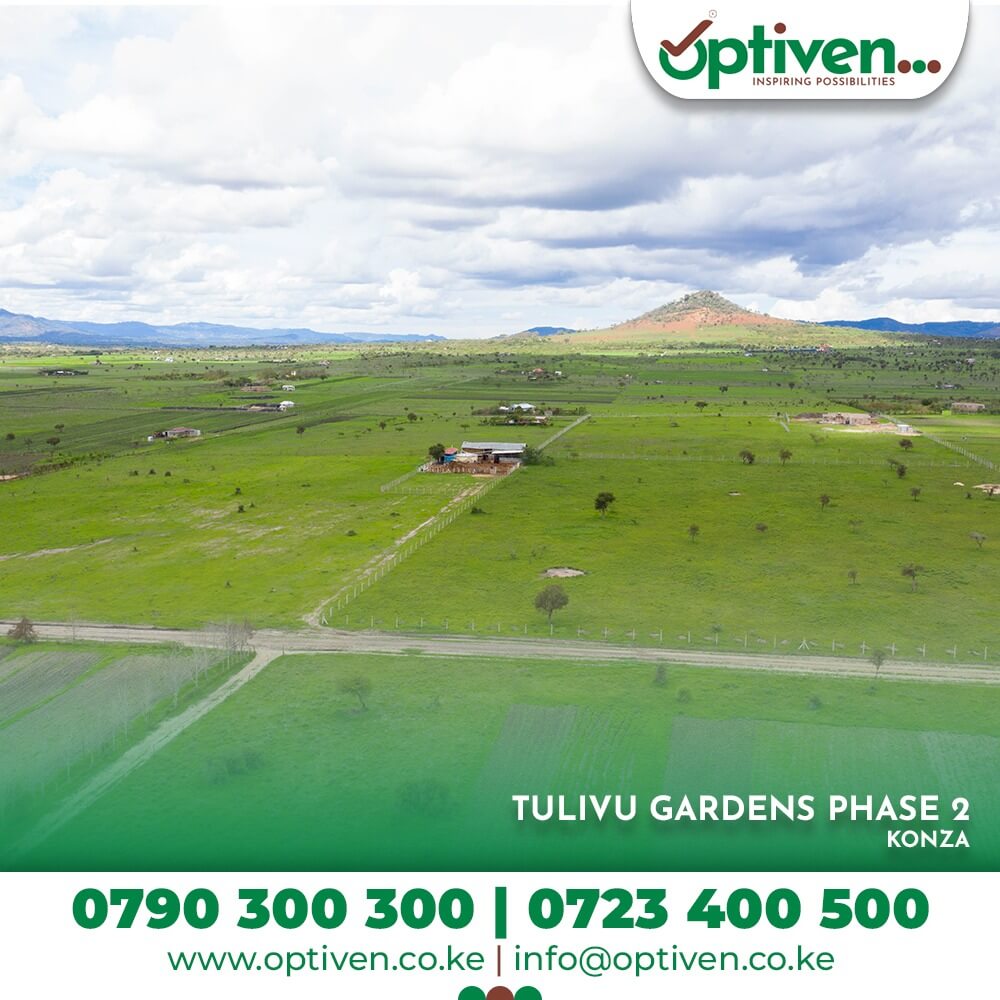 Welcome to Tulivu Gardens 2, the newest project by Optiven that offers you an opportunity to invest in a prime residential and speculative property. Located in the heart of Konza Technopolis, this parcel of land is held via a Freehold Interest, making it an ideal investment for those looking for a long-term investment.
Spread across a well-drained topography Tulivu Gardens 2 offers you breathtaking views of Konza and its surrounding hills. With a distance of just 4 km from Malili town and the main Mombasa Road, this property is easily accessible and convenient.
---
Neighborhood
The neighborhood is gradually developing, making it an excellent investment opportunity for those looking to build their dream home or invest in property and boasts of amenities such as public schools, shopping facilities, and religious centers located within Malili. At Tulivu Gardens 2, you can enjoy the benefits a marking fence and graded roads. Electricity is already present in the neighborhood.
Water supply is not yet connected to the property, but you can easily install a borehole and sell water to the community.  With future development plans for residential homes in the area, investing in Tulivu Gardens 2 is a wise decision. You can take advantage of the price appreciation and the quickly developing neighborhood, making it an ideal investment for those looking for a long-term investment.
Value Additions
---
Investment Offer (1/8th Acre)

Cash Price –  Kshs 565,000
Deposit – Kshs 262,500 
Payment in 30 days – Kshs 565,000
Payment in 3 Months – Kshs 574,075
Payment in 6 months – Ksh 583,150
Payment in 12 months – Ksh 601,300
What's More?
Price is all-inclusive i.e legal fees, stamp duty and title transfer fees with no hidden charges.
---
Title Deeds
This project has Freehold Titles to be available in 6 months upon completion of payment
---
Enquire More on Tulivu Gardens Phase 2 – Konza

Contact us
Optiven Limited
Head Office
Absa Towers Loita street, 2nd Floor
Postal Address: P. O Box 623-00600 Nairobi, Kenya
Call / SMS / Whatsapp: 0790 300300 / 0723 400 500
Email:info@optiven.co.ke
Branches
Optiven Global Office – Zamani Business Park, Karen
Kitengela –  Optiven Business Center – Acacia Junction
Nanyuki – Ubii Plaza, 2nd Floor along Kenyatta Highway
Nakuru – 7th Floor – Golden Life Mall
Mtwapa – Shifa Arcade-2nd Floor, Office No. B5
Kindly Share>>