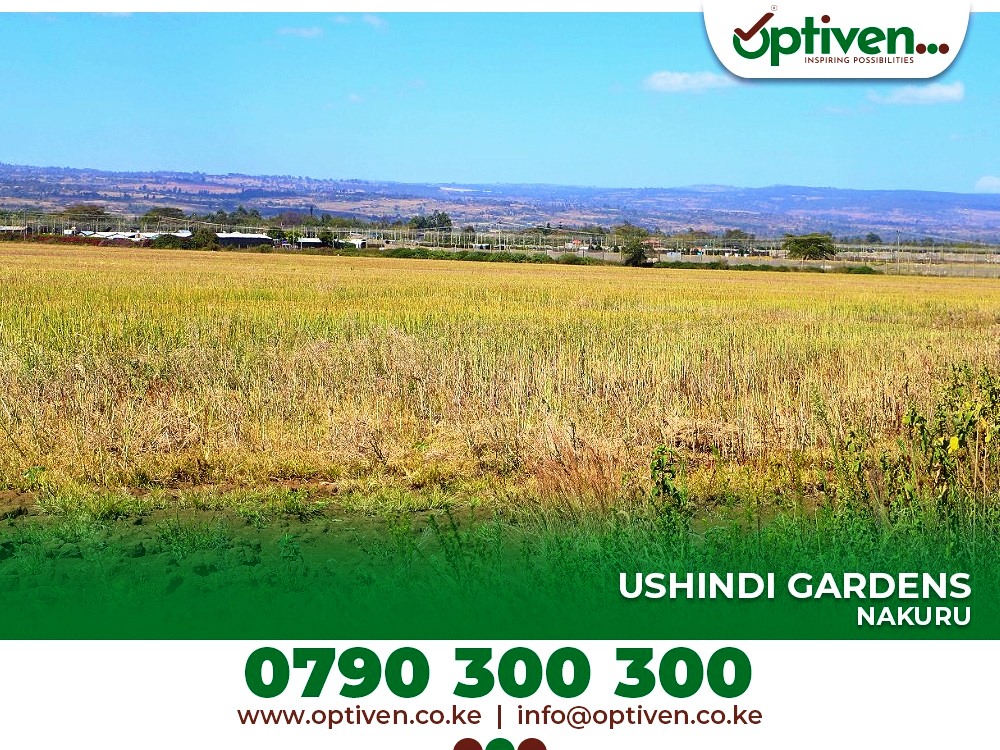 This is it! The place for Winners, Go-Getters and those working to become Victorious in life.
Life is the spice of choices and at Optiven, we choose Victory for our customers in Nakuru. Settling at Ushindi Gardens by Optiven is a game-changer for you and your family. The win is great as the project is in a well-selected location within the Nakuru metropolis. Ushindi Gardens by Optiven is the best choice for you to make right away.
And with proximity to Nakuru City, Ushindi Gardens by Optiven is unique from the others. On a traffic-free day, it will take you only 18 Minutes from Nakuru's Optiven office, located on the 7th Floor – Golden Life Mall
---
What's more?
The distance from the main highway to Ushindi Gardens is only 1.2 km.
The smooth Nakuru – Eldoret Highway is also an excellent accessibility to this well-selected, and strategically located project.
Optiven is known for serious and well-calculated prime value additions on land, with experience spanning over 23 years now.
---
Ushindi Gardens by Optiven will be a lovely Gated Community with the following promised Value Additions:
Solar streetlights are in line with the Go Green sustainability initiative by Optiven.
Water tower
Water on every plot (You only pay for meter installation)
Beautiful Trees planted along the roads
Electricity on ground
Compacted murram roads
Mesh Fence
Beautiful Entry gate
Community park
Uniformed security until project handover.
---
Why Nakuru?
Topography: The land is flat with a slight gradient
Neighbourhood: While the neighbourhood is developed, Optiven is redefining the landscape of Nakuru City.
Security: Ushindi Gardens by Optiven is near the city, and we shall have internal security too.
Location: 1.2Km off the highway
Water: Optiven will do a borehole to supplement County water.
What's more:  Buy a plot with Optiven at Ushindi Gardens and enjoy a Hassle-free building. Optiven Homes will take care of your building needs
---
Investment
Residential
SPECIAL OFFER Cash price

The first 50 plots: Ksh 850,000 all-inclusive
After 50 plots are sold out, the cash price will go up immediately to Ksh 950,000 and an instalment price will be advised.
Book early and save Ksh 100, 000 pap!

Instalment options

Deposit – Ksh 300,000
Payment in three months – Ksh 875, 500
Payment in six months – Ksh 901, 000
Payment in 12 months – Ksh 952, 000
Commercial
Cash price
Instalment options

Deposit – Ksh 500,000
Payment in three months – Ksh 1,975, 500
Payment in six months – Ksh 2,001, 000
Payment in 12 months – Ksh 2,052, 000
Bank Financing – Up to 70%
Price is all-inclusive i.e legal fees, stamp duty and title transfer fees with no hidden charges
---
Proposed Commercial plots.
We have set aside Optiven Town within the project where ample parking is provided, with roads as wide as 12 meters to allow parking and other value additions in this upcoming town provided for.
---
Why this project?
Proximity to Nakuru City
Guarantee of value additions to the project
Rapid value appreciation due to developed neighbourhoods.
Neighbours are already settling in.
This project has a Leasehold title deed and is available within 6 months of completion of payment.
---
Book Your Plot Now at Ushindi Gardens – Nakuru by Optiven
Contact us
Optiven Limited
Head Office: Absa Towers Loita street, 2nd Floor
Postal Address: P.O Box 623-00600 Nairobi, Kenya
Call / SMS / Whatsapp : 0790 300300
Email: info@optiven.co.ke
Branches
Optiven Global Office – Zamani Business Park, Karen
Kitengela –  Optiven Business Center – Acacia Junction
Nanyuki – Ubii Plaza, 2nd Floor along Kenyatta Highway
Nakuru – 7th Floor – Golden Life Mall
Kindly Share>>