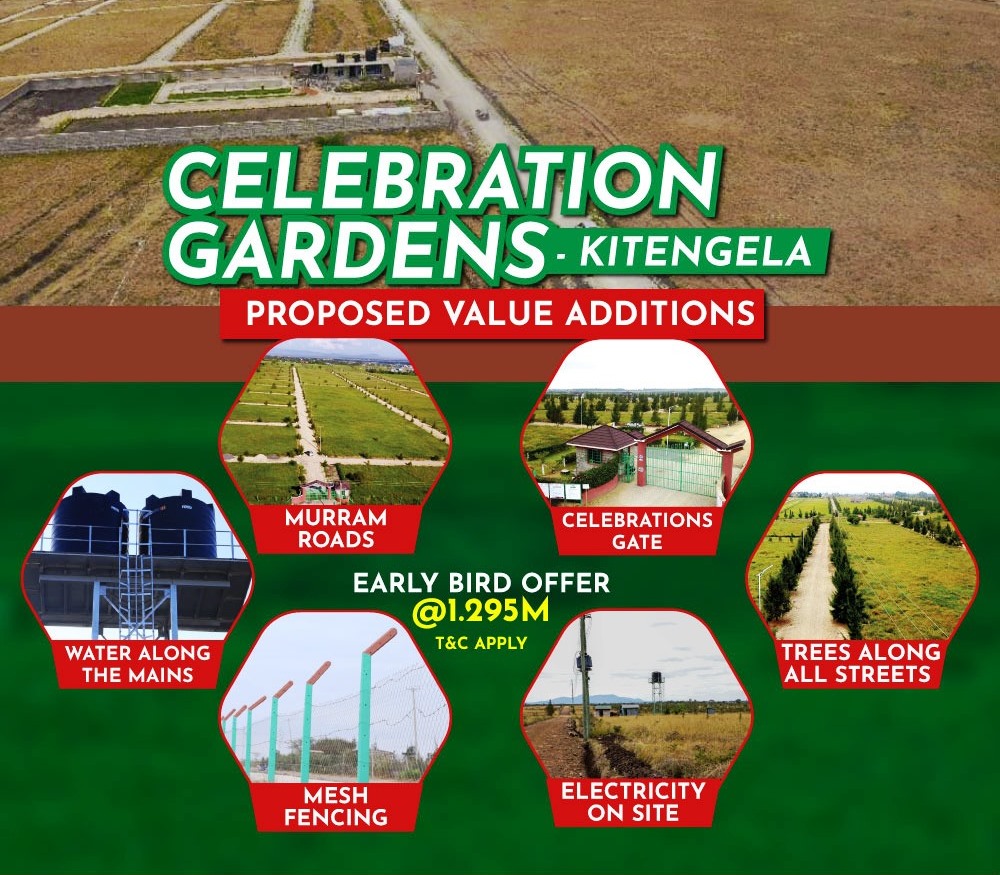 In the heart of the plains that serenade the Kitengela landscape, you will find a bejeweled project that is a rare find. In all it's glory, this is Celebration Gardens by Optiven, a ready to build project that is not only pedestalled on a remarkable grading but also easily accessible from the Kitengela central business district.
This project is also relatively priced in terms of affordability and area support. Here you will find families settled in the neighbourhood while the majority of the residents enjoy fantastic amenities. The scenes inside and around are simply panoramic with a terrain that supports excellent water flow.
What can you expect from the neighborhood?
The area is developed with fantastic and excellent homes where people have already settled.
There are many more developments for example, the upcoming International Leadership University's Main Campus is Kitengela is just a leisurely walk away for Celebrations Gardens.
Optiven is already putting up the different value additions including planting of trees along all the well-labelled internal streets, water piping and water provision through a borehole within this project.
At the same time, security is well taken care of by the fencing as we look forward to a modern gate to top it up.
Josephine Karumba, Regional Manager for the Rift at Optiven Real Estate says, 'we are happy with the uptake that Celebration Gardens by Optiven continues to attract. Our customers have expressed satisfaction at the pace of the developments being done in terms of value additions. We are confident that we shall meet expectations and provide the necessary infrastructure to make the project even more beautiful.'
Celebration Gardens by Optiven was launched in September 2021. It neighbours the reknown Victory Gardens and Optiven Gardens is located within proximity of the Oloika Community which is home to Nkasiri Adventure Park, the African Inland Church in Oloika.
To invest today call us on 0790 300300.
For more information log on to https://www.optiven.co.ke/properties/celebrations-gardens-kitengela/
Kindly Share>>