Upgrade for Convenience and  Style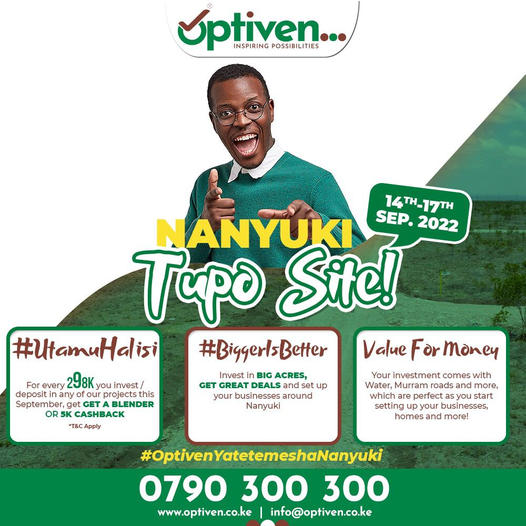 Optiven Limited continues to make a difference and inspire possibilities in Laikipia County. This September, the company was here to open it's new offices to serve customers interested in investing at its grandeur project, The Great Oasis Gardens by Optiven.
The new offices are located on the second floor at UBII Plaza on the Nyeri Nanyuki Road. The office is a welcome development and will remain open to serve Optiven Customers with ease considering that customer service is at the core of the Optiven's purpose.
September was also an opportunity for Optiven to reach out to their customers from the ground. In this case, the team of marketers congregated in Nanyuki from the 14th of September 2022 to 17th September 2022. Under the theme #OptivenYatetemeshaNanyuki, the teams were on the ground throughout this period to meet face to face with customers and understand how they can add value to them.
And for the four day period, Nanyuki was empowered with regard to the investment opportunities available from the vast Optiven Real Estate portfolio. It was also an opportunity to share the payment options available, as well as the value additions and types of projects that Optiven deals with.
Optiven invested in one of it's largest projects yet in Nanyuki with the launch of The Great Oasis Gardens. Through the #BiggerisBetter campaign, the project offers a variety of investment opportunities where customers can invest in bigger parcels of land ranging upto 10 acres or more – and which comes with a superb discount based on the terms of payment.
Already the project has received massive attention for it's value additions and location seeing that it is only 12 minutes drive from Nanyuki Central Business District and right on the Nanyuki-Rumuruti Road where works are ongoing for tarmacking. The project has already been fitted with the beacons as well as compacting of the murram road network within the project.
And the value additions were on a high gear this month as the project was able to drill water for The Great Oasis Gardens borehole. This brings to mind the importance of water for any viable investment especially in real estate and Optiven is currently installing a borehole on the project.
The project has also continued to install beacons on the plots in the different phases. The benefit for investors provides them with quick access and identification of their properties at the vast project. The unique proposition for this project is however it's variety for investors to choose in the #BiggerisBetter mantra.
From eighths of an acre to over ten acres of land, investors are free to choose in terms of what to buy as well as what to develop on their property.
Invest with us
Call / SMS / Whatsapp : 0790 300300
Email: info@optiven.co.ke
Kindly Share>>