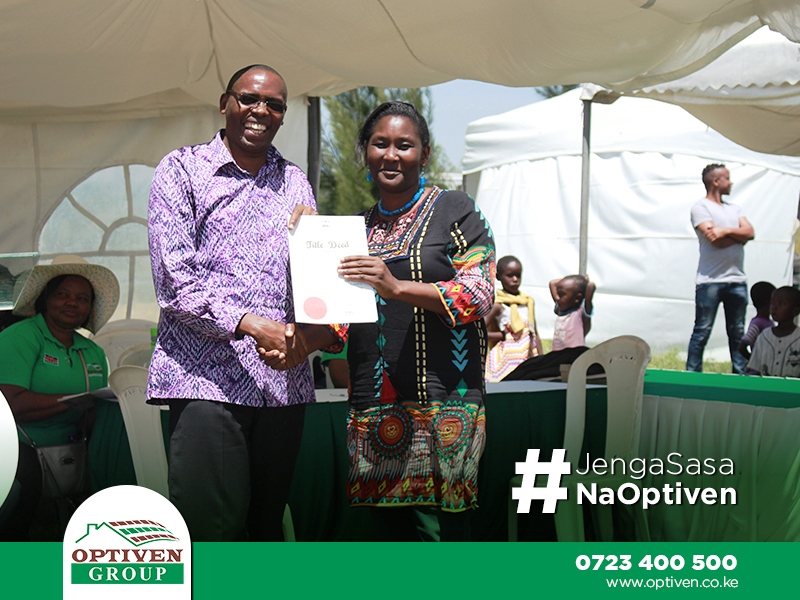 Surveys and competitive platforms, have found that Optiven Limited is the go to company for investors in Real Estate. Why, when there seems to be so much happening within the sector? Three out of five investors with Optiven Limited have cited issuance of title deeds upon completion of purchase as a top reason for investment.
Over the years, the Diaspora Team has made numerous trips to deliver title deeds to customers in the Diaspora. During the Financial Inclusion Awards in 2019, Optiven Limited was lauded for its transparency in operations including issuance of title deeds. https://www.optiven.co.ke/newsblogs/optiven-is-the-best-in-embracing-financial-inclusion/
So then what do you need to get your title deed?
With increasing interest in owning land and property in Kenya, there is a need to understand the new property registration process as outlined below. The new property registration process in Kenya through the ministry of Lands and Physical Planning in 2019 announced the new guidelines governing the property registration process.
The objective of the new process is two pronged
To simplify the process of registering land
To reduce the number of days taken to register from 90 days to 12 days.
Here are the steps required to facilitate the registration process:
Application for a land rent clearance certificate almost always made through the e-Citizen platform.
Followed by an application for consent to lease, transfer or charge the piece of land.
Then make an application for valuation for stamp duty assessment.
Once the three above applications are done, visit the site to write a report for valuation purposes.
Lastly, register of title to land and any other instruments is done at this point.
Additionally, to facilitate efficient processing of the property registration; it is paramount to fill a unified online application form.
For all the above, Optiven Limited provides its customers with this added service. Take advantage of our current interest free offer: https://www.optiven.co.ke/newsblogs/buy-any-property-and-get-6-months-interest-free/ With regards to property registration, we always recommend consultation with a legal expert for any specific advice.
To acquire your title deed here are various requirements that one should meet to go through the registration process smoothly:
What you require to make an application for land clearance:
Fill online application form
Provide a copy of the title deed of the land
Avail the land rent payment receipts for the current year. All payments are made through RTGS transfer and iTax.
Make a consent to transfer land, which requires an application letter from registered authorized agent, advocate or owner.
A copy of the title/search document.
The minimal requirements to make valuation requisition are:
A fully executed original transfer document.
Copy of the title.
A survey plan/sketch/Map of the location/RIM.
Title Registration.
The last step requires the following:
Original stamp duty payment receipt
A duly executed transfer/charge instrument/inhibition/caveat/lease all in triplicates.
Certified copies of ID card/KRA pin certificate and CR12 for companies
An original title document
Would you wish to own any of these properties? Get in touch with Optiven Today
Contact Optiven Group: 0790 300 300
Email: admin@optiven.co.ke
George Wachiuri Blog: www.georgewachiuri.com
YouTube: https://bit.ly/2VdSuFJ