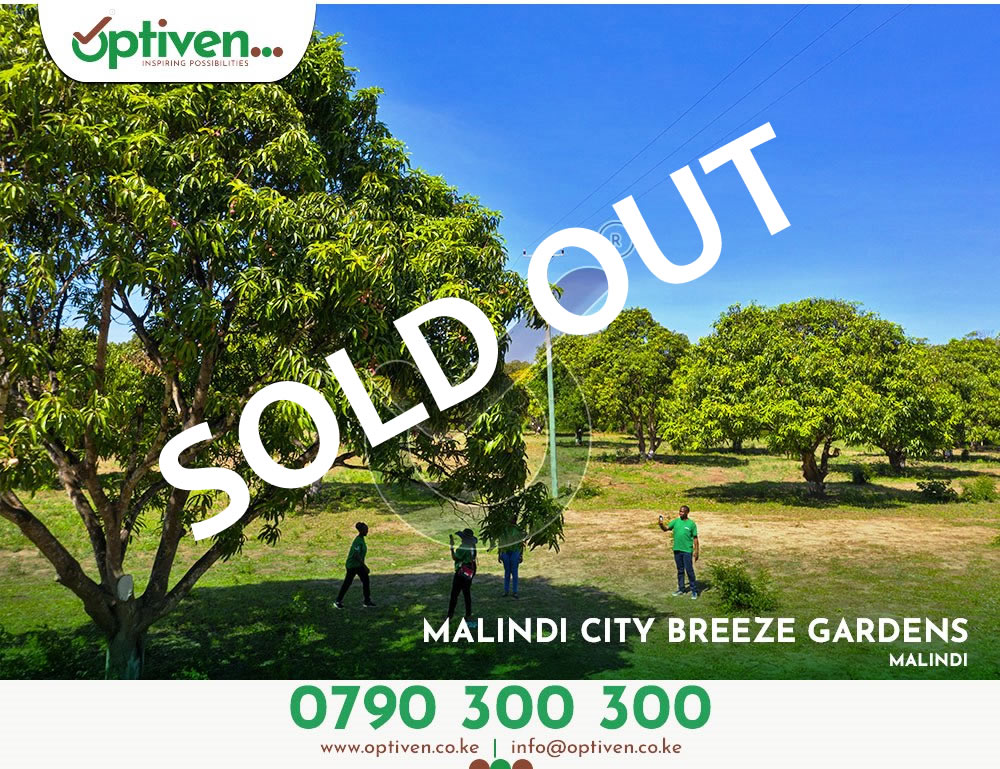 It is said that the name Malindi is derived from a Swahili word Mali – Ndi, which means a lot of wealth. Now Optiven brings you this gift that everyone must love, enjoy and experience amazing coastal breeze that you have been waiting for.
Property Type: Freehold
Size: 1/8 Acres
Address: Malindi Township
Features: Two star
Location
The project is only located 7km from an amazing public beach, well developed by county government
The Malindi City Breeze Gardens is only 5kms from Malindi vibrant town
Product Info
Electricity on site
Mature Mango Trees
Water on site
Fenced – Perimeter Fence one side and normal fence on three sides
Hotels , restaurants, hospitals, banks within 7km radius of malindi town.
Near Malindi Airport
7km to the public beach
Near the very popular Mwembe resort
Near Afya hospital- Turkish hospital
Within the environs of Catholic institute pastoral center
Near Catholic Diocese of Malindi
Near Malindi business complex
Near Karen blixen restaurant
12 min to Shella beach ( Open to Relax) build by World Bank & County government)
Subtitles to be ready in 6 months
12 min to Marine Park- water entertainment and other many facilities in this city
Why love Malindi City Breeze Gardens?
Distance from nearest town – 5 km radius of Malindi town
Topography – Well drained topography. The views of surroundings are great.
Electricity –  On site
Water supply – On site
Community in the area – Italians, all tribes
The neighbourhood –  Characterised by GOOD scenic views.
Nature of the product –  Land parcel held vide a freehold Interest , mature mango trees.
Small Swimming pool owned by Optiven and a club house to be run by Optiven.
Land use
Holiday homes , retirement homes, Residential , Wealth creation purposes, building homes to sell.
Advantages of buying here
Price appreciation, developed area as it is within town environs, setting up AirB&B investment.
How to join the Malindi City Breeze
Option 1

Cash Price Ksh 399,000
Payment within 14 days

Option 2

Three months plan.
You pay Ksh 415,000.
Deposit Ksh 207,500 and balance in 3 months installments

Option 3

Six months payment plan.
You Pay Ksh 425,000:
Deposit Ksh 212,500 and balance in 6 months installments

Option 4

90% bank financing and you meet the costs of valuation, legal fees, 13% interest and 3% negotiations fees.
The title will be charged to the bank
---
Sorrounding Photos to the Project – 7km to amazing public beach and 5km to Malindi town